I LOVE the episodes where we focus on the mental side of running, and this one, my friends, is absolutely PACKED with information about how to be mentally stronger.
This episode is a little unique to other mental training episodes as Nicole Detling (Sport Psychologist for many Olympians) and I look at the three biggest areas where we tend to struggle:  nerves before a race, giving up mentally during, and beating ourselves up for not doing enough after.
Nicole explains about the two things runners worry about more than anything else, confidence and pre-performance anxiety. These work together, but at the same time against each other, which makes it hard for us to feel completely ready when it matters.
We break down two scenarios: when training has gone well, and you fear you will mess everything up; and when training has had a lot of ups and downs, and you are not sure how to approach the race itself.
We talk about why we often look for reasons to fail, without looking for the reasons we should be having success, and how the change in perspective can make all the difference. Anxiety is not a bad thing, it could be excitement! Your body doesn't know any different.
As runners we forget that we always have anxiety, even before good races, and if we ran well then, that means anxiety is always part of performance, so why is it bad?
We learn how to treat anxiety like an old friend, and remember that we have never done anything great without it.
Nicole goes step by step goes through how to get a big goal you want, and what to do if you feel like you are not mentally tough. We get advice on how to turn yourself back around if you feel like no way are you going to make it during a race.
We know that we are our own worst critic and that we compare our worst days to everyone else's highlight reel, but there is advice in here for how to stop, or at least limit that.
Remember, mental toughness is pushing past barriers; every time you do that, you are building mental toughness. When most runners push through something hard, they feel like they got lucky, but you need to remember you did that, and you are getting tougher; reward yourself for it!
Finally, learn how to asses a bad race/Injury (anything you consider a failure). It is okay to allow yourself to embrace the suck, but then it's important to make a plan to ensure it doesn't happen again. What are you going to do about your mindset?
Today's episode is for you if you feel you are not mentally tough (you probably are tougher than you think!) and if you feel like the mental side of things is what lets you down in races and training over and over again.
Today's Guest
Nicole Detling
Owner of Headstrong Consulting and Assistant Professor at the University of Utah. Nicole has worked with athletes of all levels, from high school teams to Olympic athletes.  She has co-authored psychology books and been featured in journal publications, and regularly travels the world giving talks and training on mental toughness to athletes, coaches, and businesses.
What You Will Learn About
How to be aware of your anxiety pre-race, and how you can make it help you (or make your butterflies fly in formation, as Nicole puts it!)
Why focusing on a specific goal for a specific race (the outcome) is NOT productive and actually often hinders you, but how you can get that race goal time you do want REALLY bad
How to handle things going wrong in the race, when you mentally break down, you CAN turn it around
How to find your "why" and how to use it during moments of doubt and fear
What Nicole would like to tell you if you think you are not mentally tough
How to not beat yourself up after a bad race and how a mental break will work wonders for your running future
Listen to the Running for Real Podcast
[podcast src="https://html5-player.libsyn.com/embed/episode/id/5906756/height-orig/90/theme/custom/thumbnail/yes/direction/forward/height/90″ height="90″ width="100%" placement="bottom" theme="custom"]
Apple (iTunes) Podcast|Sticher| Castbox| Overcast | Spotify| Google Play| iHeartradio|
Nicole's #R4RPowerPose
Inspirational Quotes
I really enjoyed the performance side. That has always been my love and my passion, performance and how do we get the most out of people, maximize potential.
The basic principles of mental toughness are the same, regardless of what that performance may be… we all have to perform every day.
The number one source of confidence is the one thing that we can't deny and the one thing that we can always hang our hats on, is preparation. If you feel, when you get to any competition, that you have prepared the best you possibly can given the circumstances you have had, that is the best source of confidence you can have. 
I don't care who you are, what sport you do, how good you are, if you look for reasons to fail, you will find them… but if you look for reasons to succeed, you will find those too.
Butterflies (nervousness) are good, you just want them flying in formation.
The best athletes in the world do have some pre-race performance anxiety and it goes away once the performance starts.
When you have that number in your mind, that goal in your mind, and you want it a lot and try really hard to get it, typically what that results in is a lot of body tension, you end up hitting the wall a lot sooner, your run stride is less efficient, you are less effective, you're not getting as much push, and typically for most people that results in a lot slower times than anticipated.
If you take care of what's important now all along the way, that's keeping your mind in the process of the race, and before you know it, that outcome takes care of itself.
If you feel like things are falling apart, typically what you are doing is connecting what is happening now to the outcome.
When you recognize that you have pushed through a little bit, you release some more endorphins in that moment which is going to help you feel better, feel happier, and help mitigate some of the pain.
When you know your why, you can bear almost any how.
Most people are more mentally tough than they think they are.
Just because you quit in a race, doesn't mean you are a quitter, doesn't mean you are a loser, it just means in that moment in time, it wasn't working out the way you wanted it to. That doesn't mean you can't go back and tackle that race the following year or something similar.
You should celebrate your success just as much as you beat yourself up for your failures. 
If something really did not go well, embrace the suck! Acknowledge it, recognize it, value it, it is okay to say that didn't go the way I wanted it to…
…But don't get stuck in the suck, and that's what happens with a lot of people. Allow yourself to feel the suck, acknowledge it, but then what are you going to do about it? How are you going to come back better?
Resources Mentioned
Last week's interview with Renee McGregor
Article on how to journal (download the PDF)
Barry Shultz
Evie Serventi (my sports psych)
Thank you to my new running buddy VI and favorite recovery product BodyHealth for sponsoring this episode of Running for Real.
VI is there to encourage you on tough days, congratulate you on the days you crush it, and remind you of your goals when you need it. You can enter to win your own VI by visiting GetVI.com/running4real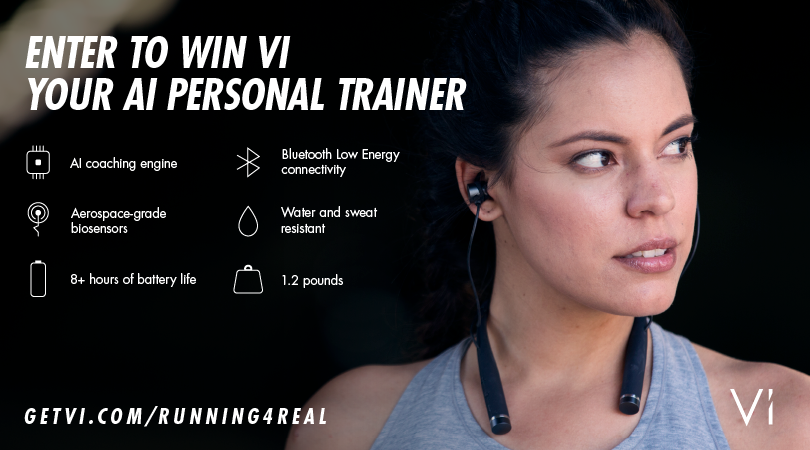 When I was running 90 miles a week as a pro, I would take 5-10 BodyHealth Perfect Amino tablets every day without fail. They helped me recover faster, and feel better. Now they have Perfect Amino XP, which makes it even easier. Get 10% off at Bodyhealth.com using coupon code TINA10
Click the banner for more information.

Thanks for Listening! I hope you enjoyed today's episode.
To share your thoughts:
Leave a note in the comment section below.
Join the Running for Real Facebook Group and share your thoughts on the episode (or future guests you would like to hear from)
Share this show on Twitter, Facebook, Instagram, or Pinterest.
To help out the show:
Leave an honest review on iTunes. Your ratings and reviews will really help me climb up the iTunes rankings and I promise, I read every single one.
Subscribe on iTunes or your favorite podcast player.
Not sure how to leave a review or subscribe, you can find out here.
Thank you to Nicole. I look forward to hearing your thoughts on the show.