Jared Ward is a Dad, a Husband, Olympian, runner, and coach. In that order. Our interview is wide, ranging from running form and which shoes can best support your body's preferred running style, injuries he has worked to overcome, and how to prepare for and run well in the heat, from both a physical and mental perspective. The real gems in this interview are all the mental preparation tips we cover.    If you want to learn some tips for focusing on the mental skills you need to succeed, this interview provides you tools you can implement into your running and racing strategy no matter what your overall pace might be.
Today's Guest
Jared Ward is a runner, Coach, and a dad, husband and Mormon. He was born in Utah and went to Brigham Young University where he got a degree in Statistics. He is a 6x NCAA All-American, and a 2016 Olympic Marathoner, finishing 6th overall and running his personal best time at 2:11:30. He teaches Statistics at Brigham Young University.
What you will learn about:
How Jared has explored biomechanics from the standpoint of the statistical side of the research
How you can work and perform though injury but doing so can set you back longer than being proactive and dealing with it up front with physical therapy and rest. You can't fake it through a marathon.
Whether Jared felt the Boston conditions might have been the type of day when he could have performed well (in hindsight of course)
In warm weather marathons it pays to be a bit cautious at the start of a long race to ensure you have energy at the end, taking extra water early on, slowing slightly can go a long way to helping you finish strong. Performance starts to suffer when you lose 2-4% of your body weight in fluids, which is increasingly an issue if you are a middle of the pack runner and are out there longer.
Hot weather tips: wearing a hat and sunglasses, carrying ice in your hands, or pour water over your head. Studies have shown that increasing your blood plasma by training for at least 10 days can help your body increase the plasma (and fluid storage) capability in your body.
How you focus during a race is important. You should have a broad focus at the start on how you feel and what is going on around you. But as you get to the end of a marathon you want to be focused narrowly on your strategy, how your competitors are faring, vs how you are feeling, because you are not going to feel good so need to take your focus elsewhere. We need to have a list of positive things that can help keep us focused.
As part of his academic research he learned that Boston Qualifiers were running the start of the race more conservatively and closer to their average pace overall than those who didn't qualify, and were also better at reading and taking advantage of the terrain of the course. Keeping a training log of how your training has gone gives you the data you need to determine about what pace you are ready for so that you don't overshoot your pace because taper has made you feel so well rested.
Start with a can do mindset rather than a "have to" mindset, it will help reduce your anxiety. It will help you to run the pace you are prepared to run. You can only run the best race and the best effort you have. If you do that it is liberating.
 How Jared manages the balance of family and career with his running. Setting your priorities for the day and then focusing your energy and schedule on those things lets you get done what is most important. If you remove the things that just pass the time and focus on what is truly important it is amazing what you can accomplish.
Jared's focus next is on the NY Marathon in the fall and is excited for preparing for that race and some half marathons in Europe as tune up races.
Listen to the Running for Real Podcast here:
[podcast src="https://html5-player.libsyn.com/embed/episode/id/6791249/height-orig/90/theme/custom/thumbnail/yes/direction/forward/height/90″ height="90″ width="100%" placement="bottom" theme="custom"]
Apple (iTunes) Podcast|Sticher| Castbox| Overcast | Spotify| Google Play| iHeartradio|
Inspirational Quotes:
If you can harness the power of your mind, it is amazing what your body can do.
Your mind has a focus limit as well, saving some of the mental gas tank is critical.
You have to trust your training and the system you have followed. Then run your best and let the rest happen.
Resources:
Last week's episode with Lindsey Hein 
Running for Real Superstars Community
Buy a Running for Real T-shirt, Tank, or Hat
Thank you to HOKA ONE ONE and Bodyhealth for sponsoring this episode of Running for Real.
HOKA ONEONE Clifton 5 are becoming my new go-to shoe. The first new brand of shoe I had tried in four years, and I put them straight on for an hour, and LOVED them. Feels like you have soft marshmallows to cushion your feet with every step. Get two day free shipping using code running4real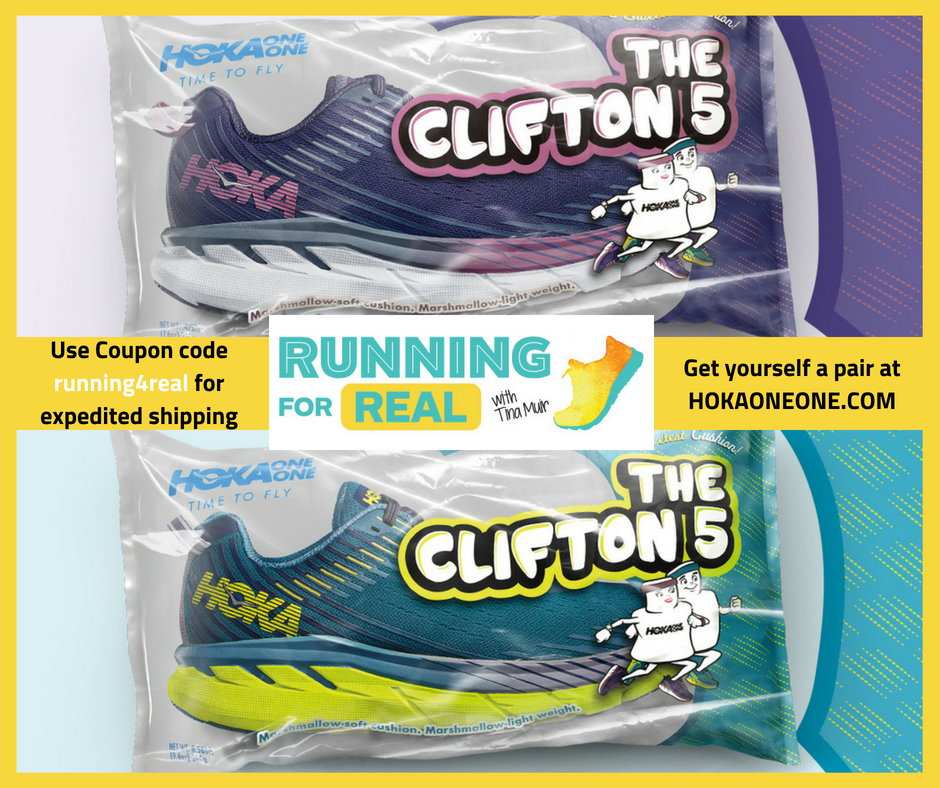 Now I am back to training, guess what was the first thing I did to start making sure I recover quicker (as coming back to fitness really beats your body up!), yep, you guessed it, BodyHealth Perfect Amino! Get 10% off at Bodyhealth.com using coupon code TINA10
Click the banner for more information.

Thanks for Listening! I hope you enjoyed today's episode.
To share your thoughts:
Leave a note in the comment section below.
Join the Running for Real Facebook Group and share your thoughts on the episode (or future guests you would like to hear from)
Share this show on Twitter, Facebook, Instagram, or Pinterest.
To help out the show:
Leave an honest review on iTunes. Your ratings and reviews will really help me climb up the iTunes rankings and I promise, I read every single one.
Subscribe on iTunes or your favorite podcast player.
Not sure how to leave a review or subscribe, you can find out here.
Thank you to Jared, I look forward to hearing your thoughts on the show.