Tom may be a recovering cheese addict who occasionally has relapses (yes, we do go into this), but primarily he has a passion for working with runners in his job as a physiotherapist in the UK while running the very popular injury prevention (and rehab) blog, Running Physio.
Tom gives us advice on how to sort through the overwhelming amount of information online to know which sources to trust, and how to decide on who in your "team" can help you when you need it. We should figure this out BEFORE issues arise, so when those injuries or setbacks do come up, we know exactly who to call, rather than doing a frantic Google search for anyone who can help. Your team doesn't have to be in person, as evidence has found that Skype or online consultations can help runners in more ways than we would expect.
Tom explains the three keys critical to staying healthy: make sure you plan your training and progress it slowly, include targeted strength work to improve performance, and focus on recovery by getting enough sleep, including planned recovery days.
We discuss how to prepare for an appointment with a medical professional; if you know what you want from the appointment, they will be better equipped to help you. If you are seeing someone and not getting better, Tom gives us the factors to consider before you seek a second opinion, but if you do need to see someone else, there is nothing wrong with that, maybe the person you are seeing does not have the correct skills for your particular injury.
We cover how to know what to do if you don't want to risk taking extra days off and losing fitness when you don't have to, but aren't sure if an injury is completely healed. We talk about how to weigh up the risk of more pain and developing further injury vs. the reward of training in that moment.
Tom explains how the differences between types of pains are not actually telling us as much as we might think, but that how your injury behaves during and after a run is actually more insightful. Believe it or not, shoes are less important than we think, but sometimes our shoes do put us at risk of injury. Tom explains how to choose the right shoes for you.
Finally, we cover the negative effects of stress (any stress, not just running), how stress can slow healing by up to 60%, and affect how we respond to exercise, prevent or reduce gains in fitness, and increase pain perception. On all fronts, we all need to consider just how much our lifestyle could be the reason we are struggling with injuries.
Today's episode is for you if you have ever been frustrated with an injury or felt overwhelmed with the amount of information out there about injuries. Tom  gives us a realistic approach to break down the advice, and show us how to help ourselves get better faster, and prevent injuries in the future.
Today's Guest
Tom Goom
One of the top physiotherapists in the UK, Tom has worked with runners of every level and speed at the Physio Room in Brighton. Tom is the creator of the very popular website, Running Physio, where he blogs and shares information about how runners can remain injury free, and run stronger than ever.
What You Will Learn About
Why it is important for a physiotherapist (or physical therapist) to "get" runners, especially when we are injured
How to find a medical professional you can trust when you need treatment and how to wade through the sea of information available online
How to prepare for an appointment with a medical professional, what you need to do and why being prepared will help them treat you better
What to do if you went to see a physic or physical therapist, but things are not improving; how to know when to seek a second opinion
What features of injuries to look out for as a major warning sign to stop rather than keep running through
How to pick the best shoes for you and your body (and no, it's not complicated!)
Listen to the Running for Real Podcast
[podcast src="https://html5-player.libsyn.com/embed/episode/id/5806495/height-orig/90/theme/custom/thumbnail/yes/direction/forward/height/90″ height="90″ width="100%" placement="bottom" theme="custom"]
Apple (iTunes) Podcast|Sticher| Castbox| Overcast | Spotify| Google Play| iHeartradio|
Tom's #R4RPowerPose

Inspirational Quotes
If you get them, you "get runners," I think that is actually really important because the more I ran, the more I realized it's actually harder to rest than to run sometimes…  I could really understand with people who came to me with running injuries who were not able to run, how much of an impact it had on them, how much they really missed it.
There is nothing else that is quite the same, that has the same buzz associated with it, so when you don't have it, it is really difficult to replace it.
If you are looking for someone specifically for treatment, then recommendations from fellow runners is a good way to go, perhaps recommendations from other health professionals.
Any medical sites making massive claims, "we can fix everything, we can treat everything, we have these wonderful magical techniques,"  I would always tend to be a little bit skeptical about that, because often the people who know the most are the people who are usually a little bit more careful about what they claim, as they recognize how complex a lot of things are.
Get it clear, what are the priorities, what are the important things that will actually make a difference? Because a lot of the time, when you get to those debates about things, you are looking at perhaps smaller stuff that isn't as important, and there are some thing that most experts in running would agree on.
No amount of foam rolling is going to help you if you are training far above what your body can cope with.
Before the appointment, really ask yourself, what do I want from this? What am I looking for? What questions do I have that I really want answered? Really that appointment should be about you and what you want from it…  If you go in with a clear idea, you get what you want out of it.
It's much harder to manage an injury if you don't really understand it.
When you are not progressing with rehab, there are lots of different potential reasons for that, and it's trying to pick through that and work out what is the reason.
Ultimately, what matters is that the runner gets the best outcome and it doesn't matter where that comes from, whether it is me or another professional, as long as they get the best outcome.
I think health professionals nowadays should be very familiar with the fact that patients will have asked Dr. Google, they will come in with an idea of what their problem is. I think really, as heath professionals, we shouldn't be too sensitive to that, and we should take the time to explain if we don't agree with what the patient thinks the problem is.
If in doubt, get checked out.
Running patterns only change a small amount. There is only a small amount of evidence that certain shoes will reduce risk of injury, so when you are looking at relatively small changes to shoes, it probably isn't going to make a massive impact, but it is also very unpredictable as different people respond differently to different shoes.
A lot of us runners, we are quite driven people, and it is that drive that gets us off the couch and gets us running, whereas a lot of people don't have that same drive, but linked to that drive are other features that perhaps we can push ourselves quite hard and be hard to ourselves, perhaps be a little bit of a perfectionist, and that can be lead to injuries too, as we push our bodies to more than what they are capable of doing.
Being kind to yourself, and recognizing that your are only human, that can help let go of some of that guilt.
Your injury risk is nearly doubled if you are sleeping less than 8 hours a night.
Resources Mentioned
Last week's interview with Devon Yanko 
Strength Training for Runners program
Tom's Skype consults for tendon injuries
If you feel like you are not getting better Part 1
Mike Sullivan (Tina's chiropractor)
Kyle Bowling Chiropractor (treated Tina's peroneal tendonitis)
Mark Cucuzzella and Josh Emdur (about steady running consults)
Athlete monitoring worksheets to print
Adam Meakins (The Sports Physio)
Christian Barton (complete sports care)
Pete Malliaras(Tendinopathy Blog)
Thank you to my new running buddy VI and favorite recovery product BodyHealth for sponsoring this episode of Running for Real.
VI is there to encourage you on tough days, congratulate you on the days you crush it, and remind you of your goals when you need it. You can enter to win your own VI by visiting GetVI.com/running4real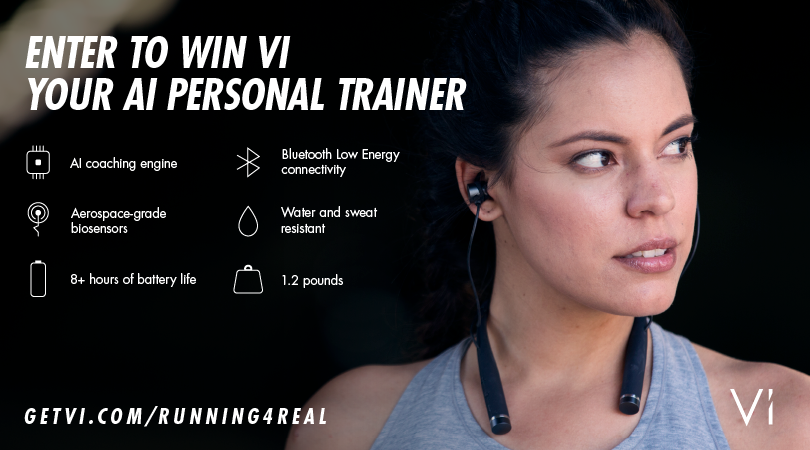 BodyHealth Perfect Amino helped my body recover MUCH faster after runs and workouts, I couldn't imagine my training life without them. You can enter to win a free pack of 6 bottles or get 10% off at BodyHealth.com using coupon code TINA10. Click the banner for more information.

Thanks for Listening! I hope you enjoyed today's episode.
To share your thoughts:
Leave a note in the comment section below.
Join the Running for Real Facebook Group and share your thoughts on the episode (or future guests you would like to hear from)
Share this show on Twitter, Facebook, Instagram, or Pinterest.
To help out the show:
Leave an honest review on iTunes. Your ratings and reviews will really help me climb up the iTunes rankings and I promise, I read every single one.
Subscribe on iTunes or your favorite podcast player.
Not sure how to leave a review or subscribe, you can find out here.
Thank you to Tom, I look forward to hearing your thoughts on the show.