The changing relationship runners may have with the sport throughout our lives.
Evie just moved back to Australia after years of living in the UK. She worked as a sports psychologist and enjoyed a lot of sports before having twins last year, Now she's slowly introducing sports into her life again and building her career back up. 
Evie predominantly loves swimming and triathlon and has competed at an amateur level and age group competitions. It was when she was pregnant with twins that her life changed and she turned to walking as a way to keep active. 
As a psychologist, she learned how to prepare for changing times.
"I've learned lots of skills in terms of how to be adaptable and flexible, and we're going to talk about mental flexibility," Evie said. "When the twins were born again, I really didn't do much. And I remember, you know, sitting on the couch, thinking I can't remember the last time I have sat for so long."
She talks about the importance of checking in with yourself because going from a competitive athlete to having no support at all after having children and during COVID, it's difficult to find time for yourself. Our relationship with running and sports is constantly evolving so we must be flexible and adapt with it. 
Creating a Plan B. 
After realizing her original plans of early swims weren't working, Evie came up with a strategy called Plan B to ensure she gives herself grace and flexibility while still making space for activities she enjoys.
"On Monday morning, check with my husband to see what meetings he's got that day. Can I slip out during the day for a lunch Swim? Can I go in the evening, or should I just bump it to the next day, or can I do some yoga at home?"
Mental toughness is the ability to perform at a consistently high level regardless of what you're faced with. When it comes to scheduling time for runs or other sports, those sorts of challenges and adversities are part of that mental toughness athletes should build up.
But the flexibility aspect is just as important. It's about practicing compassions with yourself and allowing yourself to be flexible and not beat yourself up over skipping workouts. That's where Evie's Plan B comes in handy. But you should always treat yourself with self-compassion because there's a difference between pushing through discomfort and a place of pain where you should stop. 
How do you recognize the difference? Evie suggests creating a pain log for developing an understanding of your own pain threshold. Write down details about the injury like what intensity it was when it occurred and how long it occurred for.
Develop flexibility
Develop that flexibility by doing things you don't normally do, or don't do things you normally do. It doesn't even have to be sport-related.
Think about it's reconnecting with what's important to you in life. There's always a purpose. Ask yourself why you run? What is it that you love about running? What is it that you love about your training?
"Realize that we haven't just got obstacles in the way, we've got opportunities here to be creative and to focus on small goals," Evie says. "Think of what you can focus on. What you can do and what you can't do."
Evie is taking new clients again
Evie is back ready to help people with the goals, challenges, and adversities they face. Although she's in Australia, she can work with people anywhere. She's registered in the UK and is waiting for her registration in Australia.
"I've always had a really strong interest in injury and helping people manage transitions with the sports, including injuries."
RESOURCES:
Evie's past episodes on episode 108 and episode 114
Rebound: Train Your Mind to Bounce Back Stronger from Sports Injuries by Carrie Cheadle and Cindy Kuzma
Listen to the Running for Real Podcast here:
[podcast src="https://html5-player.libsyn.com/embed/episode/id/18008045/height-orig/90/theme/custom/thumbnail/yes/direction/forward/height/90″ height="90″ width="100%" placement="bottom" theme="custom"]
Thank you to my wonderful sponsor Athletic Greens, momentous, and my New podcast for sponsoring this episode of the Running for Real Podcast.
Athletic Greens is a simple and easy way to get 75 vitamins, minerals, and whole food source ingredients. Just to help my immune system be stronger and greater! It is so simple to make and it tastes good as well. I used this for my prenatal and I am still using it while breastfeeding.
Now you can get up to a YEAR supply of Vitamin D3 and K2 for free with your first purchase of  Athletic Greens through my podcast. Visit here to learn more!
Being a tough year with additional stresses on top of an already overwhelming situation means sleep can often be lost…but it is the one thing that we know would help us. Being a former insomniac, I know the frustration going to bed early, yet being unable to switch your brain off can bring. These Momentous Elite Sleep capsules are fantastic and contain Melatonin, Magtein® (Magnesium L-threonate), and Wild Jujube Seed Extract which together will help reduce nighttime anxiety, gently fall asleep and improve circadian rhythm to achieve higher quality sleep.
 Go here and use code TINA for 20% off.
My new podcast with my co-host Knox Robinson from my 200th episode has launched! These episodes are going to go a bit deeper when it comes to the running world and the problems we are facing. I am very excited to have Tracksmith funding this project for us. Subscribe below to listen to the new podcast.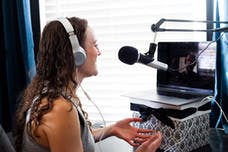 Thanks for listening!
We know there are so many podcasts you could be listening to, but we are honored you have chosen Running For Real. If you appreciate the work that we do, here are a few things you can do to support us:
Take a screenshot of the episode, and share it with your friends, family, and community on social media, especially if you feel that topic will relate to them. Be sure to tag us on Twitter, Facebook, Instagram

If you are struggling through something a guest mentions, chances are, others are too, and you will help them feel less alone

 Leave an honest review on iTunes or your favorite podcast player

Your ratings and reviews will really help us grow and reach new people
Not sure how to leave a review or subscribe, you can find out here.
Thank you to Evie, we look forward to hearing your thoughts on the show.