Can you imagine averaging 8:40 pace for 100 miles?
Nope, neither can I, but today's guest has done just that, and won many big time races like Leadville 100 mile this year (2017), and has also run a 2:38 marathon! How is that for range?
Devon Yanko talks of her huge success after a long layoff, and her struggles with imposter syndrome and the dark places our minds go when the negative thoughts kick in. Devon is honest and real, and shares the thoughts many of us are afraid to admit, like running well but not enjoying the process along the way, is it really worth it? Or is it better to run happy the entire time, but finish a little further down?
In Leadville 100 mile this year, Devon had a goal of being the happiest person out there, and made sure to congratulate every runner she saw out on the course, realizing that if you are out there doing something hard, those negative thoughts will be trying to drag you down, and maybe a friendly "hello" or "well done" would help (and it did).
Devon shares her amazing idea of yelling, "PLOT TWIST" when things get tough in races, to shake yourself out of a funk, and make yourself smile.
We also discuss how we as runners get too confident in what we are doing, and feel like we are entitled to certain results (guilty!).
Finally, we go over the other part of Devon's life, the part that keeps her balanced: the bakery she owns with her husband, and how they manage to squeeze in 70-90 miles a week when the only available times are 2am runs.
We talk about brands that truly care about individuals, not just the bottom line, and why Hoka and Oiselle are her favorite brands for being good role models to other companies, making the world a better place.
This interview is for you if you enjoy hearing from others who have been given tough life situations but have made the best of it, and keep a great perspective on life. Devon is real and fun, and I know you are going to love her as much as I do.
Today's Guest
Devon Yanko
One of the best female ultra runners out there, Devon Yanko won the 2017 Leadville 100 mile race while greeting and celebrating every runner she saw on the course. Devon has run the third fastest 100 mile time in history, but is still humble and genuine. Owner of M.H Bakery, Devon lives a balanced, fun, and happy life.
What You Will Learn About
Why she only had one goal for Leadville 100 mile (which she won): to be the happiest person out there.
How to mentally talk yourself back into the race when your emotions take over
The strategies Devon uses in ultra events to combat the negative chatter
Why yelling, "PLOT TWIST!" in a struggle during a race could snap you out of a tough patch
How Devon balances being the owner of her bakery and her training
What do you want your athletic identity to be?
Listen to the Running for Real Podcast
[podcast src="https://html5-player.libsyn.com/embed/episode/id/5806466/height-orig/90/theme/custom/thumbnail/yes/direction/forward/height/90″ height="90″ width="100%" placement="bottom" theme="custom"]
Apple (iTunes) Podcast|Sticher| Castbox| Overcast | Spotify| Google Play| iHeartradio|
Devon's Power Pose
Inspirational Quotes
For some reason, because of my huge success after this long layoff, I was having really bad imposter syndrome. I went into a very deep, dark place in my mind, a lot of self-doubt and questioning my worth, and that Javelina was just a fluke, an outlier.
I had gone into Western States super prepared, very zen, very calm, and then the first thing that happened that I hadn't considered threw me off, and I ended up making mistakes.
I had to watch the race pass me by.
It is really important to me that I am a good person while I am doing this. It had been a hard year for injury, recovery, and personal stuff, so I thought leading up to Leadville that I am a version of myself I really like, and I want to be a good person out there.
I would rather be happy the whole time, than be miserable and win, because that it detracts from the experience.
I am just thinking about how big the climb is, and something flashed in my mind, a perspective of just keeping happy even when things are hard and I yelled out loud, "PLOT TWIST!". 
I am a very process driven person, and I find when I lose focus on the process and start focusing on the outcome, like I deserve this PR or when am I going to do this thing I set out, if you focus on the process towards that, if you are doing everything you possibly can, genuinely doing all of the things to produce an outcome that is physiologically capable for you, then a lot of times you need to just go back to the process and focus on that, rather than getting wrapped up in the time.
Make sure whatever that goal is, you are working towards that goal and you are willing to do the work and focus on the process. Point yourself towards that goal, but you shouldn't have everything wrapped up in the outcome.
When you start wrapping up your identity with outcomes, it's just very dangerous, you start thinking this is who I am, and if I am not that, I am somehow unacceptable.
[About Trail running] Other than the fact they are approximately, within a couple of miles, the same distance, they are completely different, that really helped me to keep that perspective that I am not just wrapped up in time. That also translates to not just having myself think,I just focus on my running.
For the majority of people, having the other aspects of their life helps keep balance.
The relationship and what the company stands for, what they are willing to get behind, is important.
The best way for people to go about finding their own success is to be willing to experiment with things.
Resources Mentioned
Last week's interview with Phil Maffetone
Devon's blog post on Leadville 100mile
Hoka Adweek Women Who Fly Videos
Generation UCAN and BodyHealth sponsored this episode of Running for Real. Two products you can rely on.
Even if you are trying to tweak your diet to be ready for race day. Generation UCAN is the ONLY fuel I needed during my marathons, and you can get 15% off with code RUNNING4REAL at Generationucan.com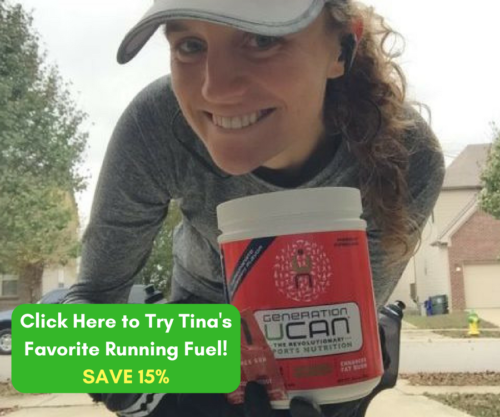 BodyHealth Perfect Amino helped my body recover MUCH faster after runs and workouts, I couldn't imagine my training life without them. You can enter to win a free pack of 6 bottles or get 10% off at BodyHealth.com using coupon code TINA10. Click the banner for more information.

Thanks for Listening! I hope you enjoyed today's episode.
To share your thoughts:
Leave a note in the comment section below.
Join the Running for Real Facebook Group and share your thoughts on the episode (or future guests you would like to hear from)
Share this show on Twitter, Facebook, Instagram, or Pinterest.
To help out the show:
Leave an honest review on iTunes. Your ratings and reviews will really help me climb up the iTunes rankings and I promise, I read every single one.
Subscribe on iTunes or your favorite podcast player.
Not sure how to leave a review or subscribe, you can find out here.
Thank you to Devon. I look forward to hearing your thoughts on the show.