"You can't solve it all once, but just start doing any something's better than nothing. Progress, not perfection. That's the I think that's the biggest message with the environmental movement," Stephen says. 
Listen to the Running for Real Podcast here:
[podcast src="https://html5-player.libsyn.com/embed/episode/id/17495795/height-orig/90/theme/custom/thumbnail/yes/direction/forward/height/90″ height="90″ width="100%" placement="bottom" theme="custom"]
Apple (iTunes) Podcast | Sticher | Castbox | Overcast | Spotify | Google Play | iHeartradio |
Thank you to my wonderful sponsor Momentous and Athletic Greens for sponsoring this episode of the Running for Real Podcast.
Here is a brand new sponsor, Momentous and I'm excited to start this relationship with them. This week I want to highlight Momentous collagen. Use Momentous Collagen Peptides daily for long-term joint health, resilience against injury, and faster return to running. The most popular ways to use are in a smoothie or with your morning coffee! It mixes in super easily and is totally unflavored. Most products claim to be "unflavored" but still carry a strong scent of their source, be it bovine-hide or marine collagen. Ew.
The Science Behind Creatine Video
Go here and use code TINA for 20% off any product as Momentous.

Athletic Greens is a simple and easy way to get 75 vitamins, minerals, and whole food source ingredients. Just to help my immune system be stronger and greater! It is so simple to make and it tastes good as well. I used this for my prenatal and I am still using it while breastfeeding.
Now you can get up to a YEAR supply of Vitamin D3 and K2 for free with your first purchase of  Athletic Greens through my podcast. Visit here to learn more!
Launching my new podcast with my co-host
Knox Robinson from my 200th episode
 in February. These episodes are going to go a bit deeper when it comes to the running world and the problems we are facing. I am very excited to have Tracksmith funding this project for us. If you want to sign up to be the first to know more about this new podcast sign up
here
to get more information.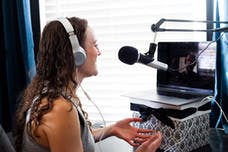 Thanks for listening! I hope you enjoyed today's episode.
To share your thoughts:
Leave a note in the comment section below.
Join the Running for Real Facebook Group and share your thoughts on the episode (or future guests you would like to hear from)
Share this show on Twitter, Facebook, Instagram, or Pinterest.
To help out the show:
Leave an honest review on iTunes. Your ratings and reviews will really help me climb up the iTunes rankings and I promise, I read every single one.
Not sure how to leave a review or subscribe, you can find out here.
Thank you to Stephen, I look forward to hearing your thoughts on the show.