This expert in Biomechanics and a member of the staff at the University of Montana is known as one of the best for a reason.  He studies runners and runner injuries with patellofemoral pain, Achilles tendonitis, and tibial stress fractures and is known for helping assist clinicians with diagnosing and preventing common running injuries.  Rich is a runner himself and ran cross country and track starting in high school.  
If you are interested in subjects such as the risk of injury, gait retraining (and can we even change gait longer term?), the helpfulness of wearables , strength training and the importance of recovery, this episode will be of special interest to you.  We are back to the science you all love in this episode.
Today's Guest
Dr. Richard Willy is an Assistant Professor in the School of Physical Therapy, University of Montana.  He received his PhD in Biomechanics and Movement Science from the University of Delaware and his master of physical therapy from Ohio University. In addition to his research, Dr. Willy has been a clinician for 18 years specializing in treatment of the injured runner. 
What you will learn about:
How runners who suffer tendon or stress fractures are significantly more at risk for additional tendon or stress fractures.

 

Part comes from not changing training loads and making the same mistakes over again.
How general overall life stress in our lives increases the risk of injury because it impacts sleep and recovery overall.

 

Sleep quality really impacts the risk of stress fractures.
How a Clinician can work with runners to change their biomechanics (stride, cadence, etc) and how much practice it takes in order to make those changes the norm for the runner.

 

How the runner needs to become bodily aware of what the change should feel like.

 

But, should you even bother to change your gait or is there something else you can do to make your body more durable and lower your injury risk that is more effective?
The importance of cadence and whether there really is any magic to the oft touted 180 steps per minute.

 

Can you trust the cadence reported by your running watch?

 

How stress fractures may need a team of specialists to lower their risk, including Physical Therapists, Strength Coaches and Registered Dietitians.
How runners lie to themselves about where they are physically in terms of their training volume.

 

How we push too hard after a race to improve or try to return to "where we were" too quickly after injury.

 

The largest risk is in the 3rd work after comeback because that is where the body really starts to break down from accumulated stresses.
Strength training is instrumental in tendon health and durability.

 

And it needs to be heavier weights, not low weight/high rep modes.

 

Endurance training mitigates the tendency to increase muscle mass but instead helps focus the change on tendon health and strength vs bulking up muscles.
Plyometrics can also help with tendon strength and stiffness but at the end of the day strength training gives a bigger bang for the buck.
Hip strength is important but won't change how you are moving.

 

The process of getting stronger is what is more important and hip strengthening and quadriceps strength seems to best help protect the knees.

 

Calf raises are also important as a large percentage of our overall propulsion comes from the calf.
Wearables are a double edged sword that provide us with some useful info but we also get caught up in the social media aspects and trying to do too much based on our fitness levels because we are competing with our friends vs focusing on our readiness.

 

Where a wearable can help is providing the data needed to review their running history and where something might have changed that caused an injury in terms of volume or terrain.
Heart rate can help with keeping runs easier but as we get dehydrated our bodies have to increase the heart rate in order to push the blood volume so it can be a bit misleading.

 

Chest straps are more reliable right now than wrist based still.
Distance, cadence, vertical oscillation, all seem to be pretty accurate and others not so much.

 

But clinically many of those measures don't mean anything in terms of our running health.

 

It is important to track things over time but as predictive measures we still really don't know enough to make that data of much use.
Listen to the Running for Real Podcast here:
[podcast src="https://html5-player.libsyn.com/embed/episode/id/6947426/height-orig/90/theme/custom/thumbnail/yes/direction/forward/height/90″ height="90″ width="100%" placement="bottom" theme="custom"]
Apple (iTunes) Podcast | Sticher | Castbox | Overcast | Spotify | Google Play | iHeartradio |
Inspirational Quotes:
Mix things up.  Don't run the same pace or the same route or the same terrain all of the time.  Do some speed sessions, trail runs, run with different groups to make your body adapt.  Especially as we age, it it important to keep the breadth of running modes in your plans.
Your perceived exertion is more important than any other measure.  We don't get faster running every run as a tempo run.
Resources:
Last week's episode with Chrissie Wellington 
Running for Real Superstars Community
Support Tina through her Patreon Page
Effort scale for training by feel
Experts Rich mentioned to follow:
Podcast episode with Max Paquette
Email rich: rich.willy@umontana.edu
If you would like the research studies Dr Rich has worked on, send me an email  and I will send them over to you.
Buy a Running for Real T-shirt, Tank, or Hat
Thank you to HOKA ONE ONE and Bodyhealth for sponsoring this episode of Running for Real.
HOKA ONE ONE® is a running shoe unlike any other. The Bondi 6 was one of the first shoes HOKA ONE ONE® ever created and it's become a fan-favorite for good reason. Just try it on today and experience the sweetest cushion. Become part of the family. It's Time To Fly™.. Get two day free shipping using code running4real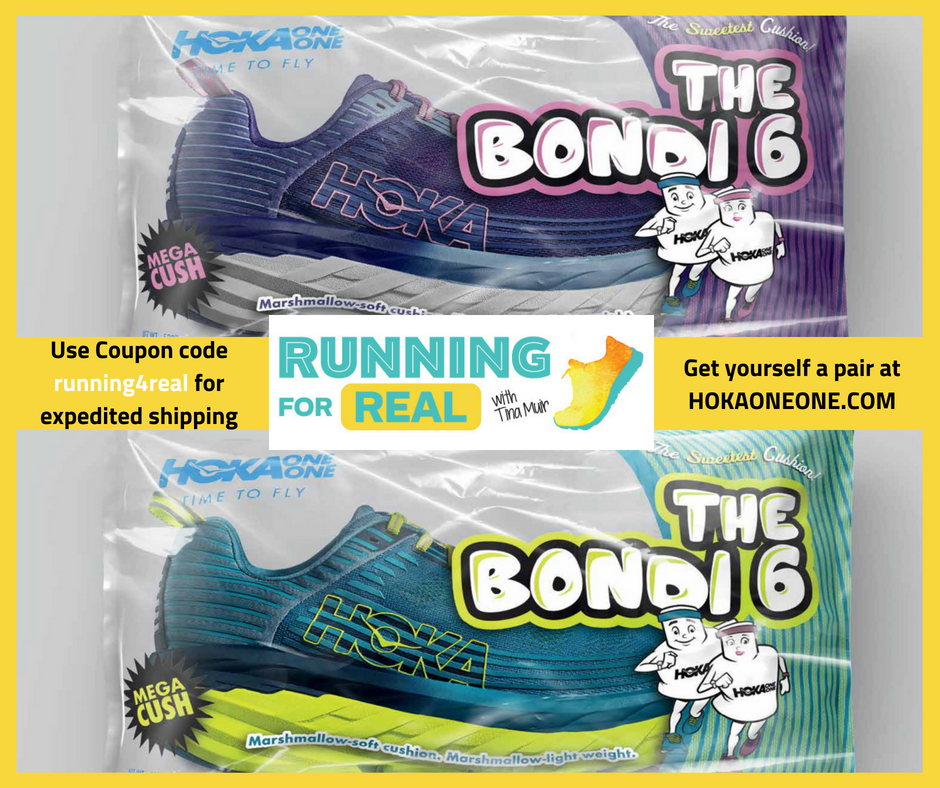 Now I am back to training, guess what was the first thing I did to start making sure I recover quicker (as coming back to fitness really beats your body up!), yep, you guessed it, BodyHealth Perfect Amino! Get 10% off at Bodyhealth.com using coupon code TINA10
Click the banner for more information.
Thanks for Listening! I hope you enjoyed today's episode.
To share your thoughts:
Leave a note in the comment section below.
Join the Running for Real Facebook Group and share your thoughts on the episode (or future guests you would like to hear from)
Share this show on Twitter, Facebook, Instagram, or Pinterest.
To help out the show:
Leave an honest review on iTunes. Your ratings and reviews will really help me climb up the iTunes rankings and I promise, I read every single one.
Subscribe on iTunes or your favorite podcast player.
Not sure how to leave a review or subscribe, you can find out here.
Thank you to Rich, I look forward to hearing your thoughts on the show.