Lindsey Hein is the host of the I'll Have Another podcast.  We cover being runner moms, running while pregnant and restarting post delivery, and the timing of having your kids. The main focus of this podcast is a discussion about how you might want to start your own podcast on a subject that interests you and how to grow it. We go over how Lindsey came up with the idea for her podcast, and how she researched the style of other podcast hosts to determine how she wanted to build her interviewing style. Listening to different styles teaches you a lot about how hosts have changed and matured over the years. If you want to grow your social media presence, this episode is full of tips that you can use as you follow your dream.
Today's Guest
Lindsey Hein is a mom runner of three little boys with another on the way. With all of that she still finds time to act as an RRCA Certified running coach and be the producer and host of the I'll Have Another podcast series. Lindsey began running cross country in high school at the urging of a friend. She has run 13 marathons and a Half Ironman Triathlon. She lives in Indianapolis with her husband and growing family.
What you will learn about:
Does Lindsey find having multiple children adds to the chaos in her house as each one is added or does it get easier?
How her sons reacted when they learned that the new baby on the way was another boy.
How running has changed with each pregnancy and her advice for other women trying to run while expecting. Did she feel pressure to keep running with each baby? How to find alternative ways to manage the stress that running used to help you deal with.
How social media drives our behavior rather than trusting ourselves to do what works for us.
How her podcast has become more running focused over the years but is a place for casual conversations with people she is interested in learning about.
How to get over being nervous when interviewing guests. Focus on what you think your listeners want to hear from this person and what you want to learn from them.
How to find your focus, learn from others, and do what brings you joy. You need to be in the moment.
How Lindsey loves meeting her guests but truly loves connecting with her audience. How it is a special feeling to know that people appreciate her passion.
Shamelessly reach out to people you want to have on your show or who you think your guests want to hear from. Be persistent. But make it a personal request; it has to be individualized and genuine.
Be consistent; if you say your podcast will be out on a given day of the week, make sure you honor that.
Lindsey tells us the favorite things she has learned from some of her guests.
Listen to the Running for Real Podcast here:
[podcast src="https://html5-player.libsyn.com/embed/episode/id/6791372/height-orig/90/theme/custom/thumbnail/yes/direction/forward/height/90″ height="90″ width="100%" placement="bottom" theme="custom"]
Apple (iTunes) Podcast|Sticher| Castbox| Overcast | Spotify| Google Play| iHeartradio|
Inspirational Quotes:
We think that time is passing us by but for many of us, our fastest times are a bit later in our life. Take the pressure off and know that your hard work does pay off.
We are all unique and need to focus on our own life and not compare. Just do you.
If you are going to start a passion project, you just have to start it, not worry about whether it will make you money. Hone in on your passion.
Don't let one specific passion define your life. it is what you do, not who you are.
Resources:
Last week's episode with Dr Emily Kraus
Running for Real Superstars Community
Lindsey's podcast with:
Buy a Running for Real T-shirt, Tank, or Hat
Thank you to HOKA ONE ONE and Aaptiv for sponsoring this episode of Running for Real.
HOKA ONEONE Clifton 5 are becoming my new go-to shoe. The first new brand of shoe I had tried in four years, and I put them straight on for an hour, and LOVED them. Feels like you have soft marshmallows to cushion your feet with every step. Get two day free shipping using code running4real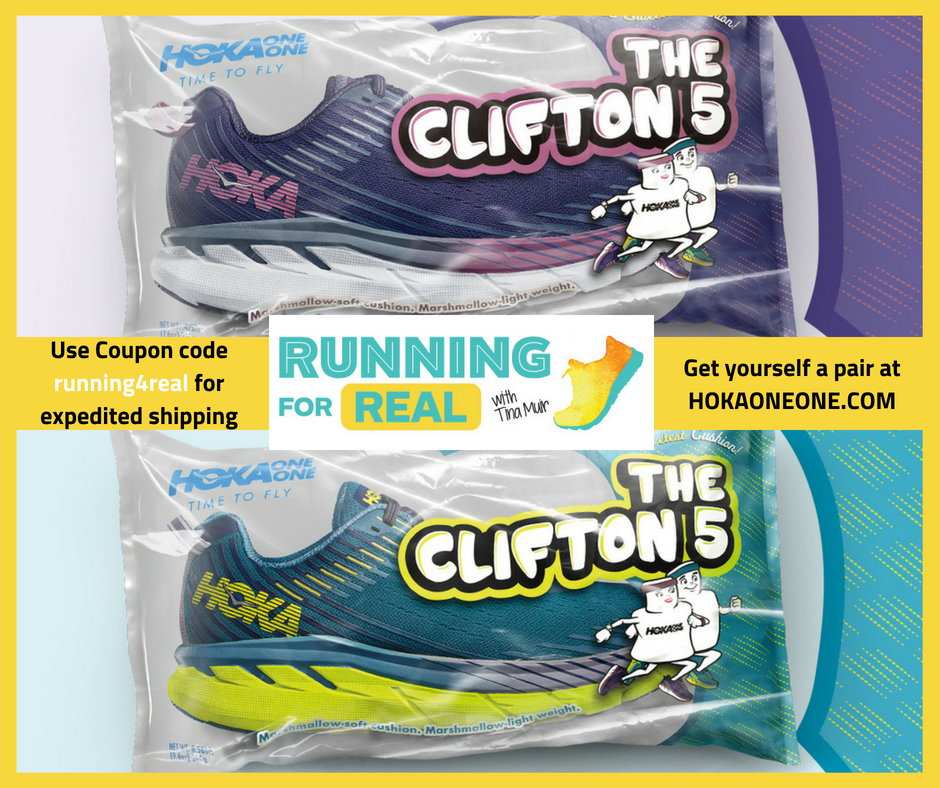 Thanks to Aaptiv for supporting the podcast. New members get 30% off annual membership at http://www.aaptiv.com/running4real
Thanks for Listening! I hope you enjoyed today's episode.
To share your thoughts:
Leave a note in the comment section below.
Join the Running for Real Facebook Group and share your thoughts on the episode (or future guests you would like to hear from)
Share this show on Twitter, Facebook, Instagram, or Pinterest.
To help out the show:
Leave an honest review on iTunes. Your ratings and reviews will really help me climb up the iTunes rankings and I promise, I read every single one.
Subscribe on iTunes or your favorite podcast player.
Not sure how to leave a review or subscribe, you can find out here.
Thank you to Lindsey.  I look forward to hearing your thoughts on the show.