Kim Dawson will take us through the mental issues we face as runners and in our day to day lives. This interview provides practical advice on how we can maximize our performance by building balance into our lives and having a strong focus on what is the most important thing in our lives right now. Kim is a runner, triathlete, and mother, who has worked with Olympians and professional sports organizations.
Today's Guest
Kim Dawson is a sports and exercise psychologist at the Wilfrid Laurier University in Waterloo, Ontario, Canada.  She has worked with elite athletes, Olympians and professional sports organizations for over ten years, helping them develop the mental side of their performance.  Her company, Mind2Achieve, works with individuals and companies, offering leadership training, group dynamics workshops, and personal performance psychology.  Kim is a mom of two and lives in Waterloo.
What you will learn about:
How sports psychology is becoming more prevalent but is changing from what it was many years ago. It has become much more open and accessible than it ever was in the past. The only concern is to be sure that the practitioner has the experience necessary on the psychology side.
All of us could use the services of someone to help us in our mental training as we balance the needs of our busy lives. A practitioner can help you figure out how to fit your goals into your already busy life so that you are positioned to achieve your goals.
In order to focus on several things, you need to have a support system to help pick up the things you cannot juggle effectively on your own.
Determine what running means to you, and realize that it can change across the seasons of your life. It can be exercise, it can be a coping tool, it can be "me time." Just be sure you are not using it as an avoidance mechanism to run away from something difficult in your life.
What your go-to strategy is for coping with stress.  How to manage fear or pain so you can make adjustments accordingly. What defines success for any race, because each one can have a different motivation, and what you need on any given day can vary.
How to determine if you need an ongoing relationship with a sport psychologist or whether a few sessions can give you tools to work with as you go forward. How you can learn to control the controllable things and let go of the others.  How to determine what it is you really want out of your life and how to move forward.
How Kim believes that she doesn't need to be on site the day of a big race because she has provided the skills the athlete needs to cope mentally and has provided them with resources within themselves so they don't need to depend on her as a coach. How she has found that a couple of weeks before a race pretty much everyone thinks, "oh crap, I can't do that" and how it's important to know that everyone feels that way and you can get past it. Our emotions, behaviors, and thoughts might not align at the right time, so before a race is when to work through when to focus on each one. This is as important as your physical peaking during training.
How some nerves are good; we want the adrenaline because it helps us perform. But when it becomes anxiety, it is fear based. It is important to do some visualization of all parts of a race so you can manage your nerves. There are techniques to warm up mentally as well as physically so you can manage stress, and they have to be practiced ahead of time so you can take control of your emotion.
How to use writing yourself or your coach an email that describes the race and how you plan to run it as a tool. Then after the fact, review what you actually did or did not follow in your plan and consider how you can learn from it.
Listen to the Running for Real Podcast here:
[podcast src="https://html5-player.libsyn.com/embed/episode/id/6790610/height-orig/90/theme/custom/thumbnail/yes/direction/forward/height/90″ height="90″ width="100%" placement="bottom" theme="custom"]
Apple (iTunes) Podcast|Sticher| Castbox| Overcast | Spotify| Google Play| iHeartradio|
Inspirational Quotes:
I'm a big proponent of "not yet."  There are always consequences and sacrifices for everything you decide to do.  Be aware so that you don't lose the options that might be available if you pay attention to your choices.  There are times and seasons for your passions in your life.
Running is a very self-involved endeavor.  It is something that can take away from other aspects in your life if you are not mindful and careful of the right balance or you risk losing something important.
If not now, when?  Are you satisfied with just performing or do you want more?
It is all about the action plan for how you are going to get there, not what you want.
Our experience can be lessons that take us forward or anchors that hold us back.  We can't stay in the place that makes a disappointment an anchor and learn to use the lessons to move forward with what we want.
Resources:
Last week's episode with Jason Fitzgerald
Running for Real Superstars Community
Email Kim : KDawson@wlu.ca
Buy a Running for Real T-shirt, Tank, or Hat
Thank you to HOKA ONE ONE and Aaptiv for sponsoring this episode of Running for Real.
HOKA ONEONE Clifton 5 are becoming my new go-to shoe. The first new brand of shoe I had tried in four years, and I put them straight on for an hour, and LOVED them. Feels like you have soft marshmallows to cushion your feet with every step. Get two day free shipping using code running4real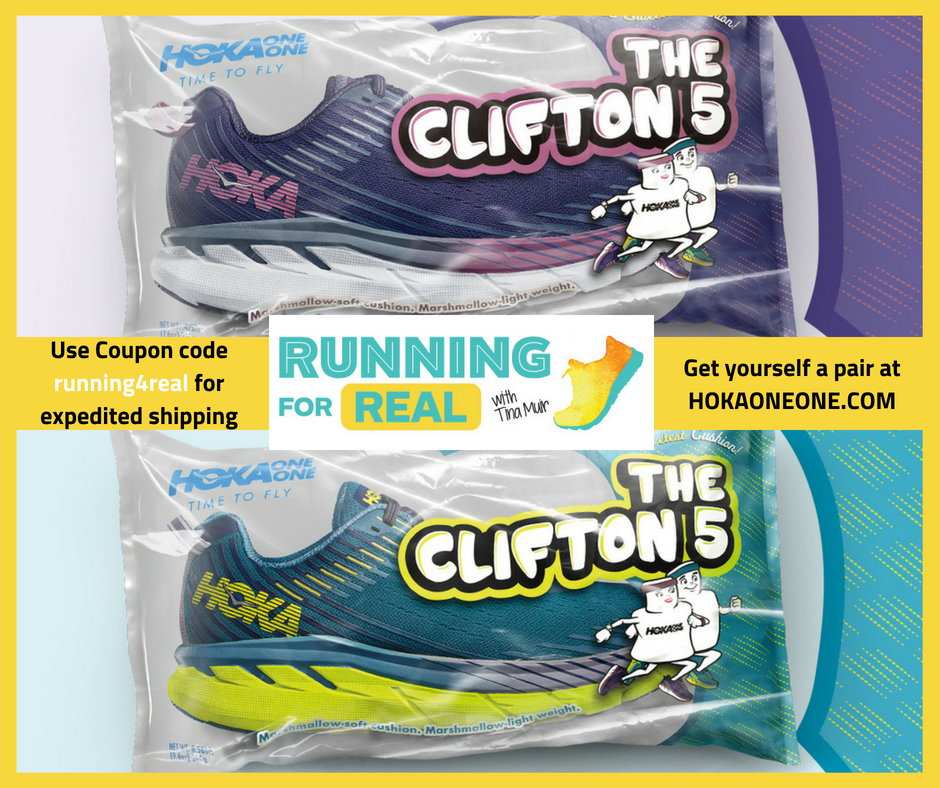 Thanks to Aaptiv for supporting the podcast. New members get 30% off annual membership at http://www.aaptiv.com/running4real
Thanks for Listening! I hope you enjoyed today's episode.
To share your thoughts:
Leave a note in the comment section below.
Join the Running for Real Facebook Group and share your thoughts on the episode (or future guests you would like to hear from)
Share this show on Twitter, Facebook, Instagram, or Pinterest.
To help out the show:
Leave an honest review on iTunes. Your ratings and reviews will really help me climb up the iTunes rankings and I promise, I read every single one.
Subscribe on iTunes or your favorite podcast player.
Not sure how to leave a review or subscribe, you can find out here.
Thank you to Kim. I look forward to hearing your thoughts on the show.