When Rob Jones was honorably discharged from the military as a double amputee, retiring from his position as a Marine sergeant, he had two choices for how he could continue his life: let it overtake him or take it as a challenge to make his quality of life even better than it was before.
I am sure you can guess which he chose.
Rob decided that his goal was to be self-sufficient and he wanted to make sure he lived his life the way he wanted to, in a way that made him proud.
Physical therapists were tough on him, making it more attainable to focus on his goals and have no excuses, but as soon as he could row, Rob set his eyes on the Paralympics, and once he was released, moved to Florida to train for five months.
Six months later, Rob had a bronze medal in the Paralympics, and realized just how much we can do if we set our minds to it.
Rob and his prosthetic legs are about to embark on his greatest challenge yet: 31 marathons in 31 cities all over the US, Canada, and in London, in 31 days. You can join Rob on his journey too, running with him in the cities, donating towards his goal of raising $1,000,000 for the Veterans Association, or just giving him words of encouragement.
Hear about Rob's journey, the logistics of running with prosthetic legs, and what injuries he will have to watch out for.
20 veterans a day commit suicide, and Rob is trying to change that by raising money to help give all veterans the support he had to turn his life around.
This episode is for you if….you have a heart! This will inspire and challenge you in a way you may not have seen in a long time.
Today's Guests
Rob Jones
A retired Marine sergeant, double amputee Rob Jones is not just a bronze medalist in the Paralympics, but he is now on his next challenge to run 31 marathons in 31 major cities in the US, Canada, and the UK, in 31 days.
What You Will Learn About
How Rob's life has changed since losing both his legs and transitioning back to life outside the military
Why Rob choose rowing to find out what he was still capable of, and how he ended up with a bronze medal in the paralympics in rowing
His next challenge to run 31 marathons in 31 cities in 31 days
Why Rob chose $1,000,000 as his goal for fundraising, and what that money will be used to do.
Listen to the Running for Real Podcast
[podcast src="https://html5-player.libsyn.com/embed/episode/id/5669443/height-orig/90/theme/custom/thumbnail/yes/direction/forward/height/90″ height="90″ width="100%" placement="bottom" theme="custom"]
Apple (iTunes) Podcast|Sticher| Castbox| Overcast | Spotify| Google Play| iHeartradio|
Rob's #R4RPowerPose
Inspirational Quotes
Humans are infinitely adaptable. You see a dog that's missing a leg, and he pretty much doesn't know. He just runs around on his three legs, he just doesn't really register that he's missing a leg. We are a little bit smarter, so we know how things are supposed to be, but I think what it boils down to is I woke up in the hospital and I was alive.
I just decided, my life goal hasn't changed. I am still gonna try my best to have the best life I can possibly have, and in order to do that, I needed to heal, I needed to learn how to use prosthesis and I needed to get strong again.
I set myself a really tough goal, and it was a way for me to figure out what I can do and how big of a challenge can I still take on. The fact that is was successful bolstered my confidence.
It was two years after losing both legs and I was like a skeleton, like a shell. Being able to not only recover from a devastating injury like that, but then relearn how to walk, and then take it another step further and learn how to row, and then row at a high level, and train twice a day like an elite athlete has to, I was proud of that.
I want to be an example of somebody that when a tragedy happens they don't let it destroy them, instead they accept that challenge, that tragedy as a new challenge and they use that tragedy to make their lives even better than they expect and also improve the lives of others.
The way that I run, I have my prosthesis, I don't have a knee so basically if you can imagine just your femur, and then there is a solid cylindrical pipe coming out of your femur, and that is attached to a C shape piece of carbon fiber, that is my running foot. It basically works like a spring, I load it up, and then it kind of bounces me forward.
That is what America is about to me, all 300 million of us coming together and working on a problem ourselves, not relying on the government or somebody else to do it. We are taking the responsibility on ourselves.
Resources Mentioned
Video of Rob and his journey
Thanks to Generation UCAN for sponsoring this podcast, you can get 15% off your order by visiting this link and using code RUNNING4REAL.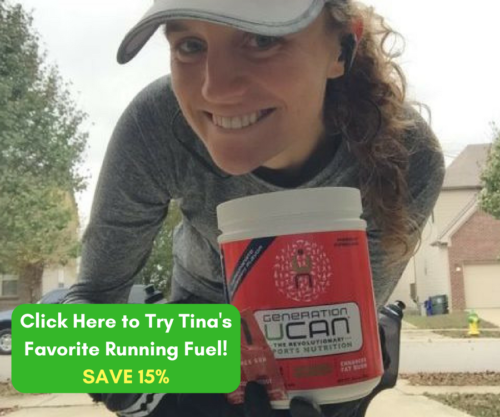 Rob's Oscar Speech Thanks
Everyone you see at the Oscars getting an Oscar or getting an ESPY award, they are the ones getting the award, but maybe the lanyard belongs to them, the rest of it belongs to all the people that helped them make it possible, as nobody did that alone.-Rob
Rob's wife Pam
Rob's mom
Team Rob for his previous challenges and this challenge
Rob Macdonald
Brad Lewis
Roger Payne
Rob White
Friends from the Marine Corp
Thanks for listening! I hope you enjoyed today's episode.
To share your thoughts:
Leave a note in the comment section below.
Join the Running for Real Facebook Group and share your thoughts on the episode (or future guests you would like to hear from)
To help out the show:
Leave an honest review on iTunes. Your ratings and reviews will really help me climb up the iTunes rankings and I promise, I read every single one.
Subscribe on iTunes or your favorite podcast player.
Not sure how to leave a review or subscribe, you can find out here.
Thank you to Rob. I look forward to hearing your thoughts on the show.