Matt Llano has a half marathon PR of 1:01:47 and a marathon PR of 2:12:28, but although he has run really fast, this podcast focuses on the importance of being open and vulnerable and using that to feel more powerful as a runner and person. Matt is the perfect person to talk to about this, and you are sure to be inspired by his words. He was one of the founding members of the HOKA ONE ONE Northern Arizona Elite Team and was a taste tester for Shalane Flanagan's cookbook (are we not all so jealous!). Matt is probably best known though, as the first openly gay American professional runner.
Are you ready to harness the power within you by living as your authentic self? Then this podcast interview with Matt can help you learn a path to get there and the power it can bring to your life and running.
Today's Guest
Matt Llano, an American distance runner, was one of the founders of the Hoka One One Northern Arizona Elite team. He ran for the University of Richmond where he graduated with a Triple Major in Theater, Psychology and Latin American/Iberian Studies. He came out to the world as gay in 2013 and had his story featured on ESPN. He wanted to provide a role model for gay youth, and athletes of all ages and talents.
What you will learn about:
How Matt's running talent was not evident until later than most, as he was a diverse athlete as a kid and participated in an after school running program, swimming, soccer, basketball and baseball. In high school he realized that running was what he was passionate about, even though he was not as good at it to start.
How he strives for a sense of personal fulfillment with each workout each day.
How he believes in professional athletes being open and honest and letting people know what is going on in their lives. There is a lot of power in being vulnerable.
How he started working with HOKA ONE ONE and how well they support him as a whole person vs just as an athlete.  HOKA ONE ONE has been helpful in working with him to celebrate the diversity in sport.
Matt and I discuss our experience with running in HOKA ONE ONE shoes for the first time and how we went from being skeptics to falling in love with running in them. His favorite is the Clifton, as it is so versatile.
How he was hit by a car while running in 2011 and suffered a traumatic brain injury. Matt discusses his recovery process over the next 5 to 6 months while his brain healed. He now runs with a RoadID and is hyper aware of cars and traffic.
Matt and I discuss living an authentic life and doing what feeds your passion, not what earns you awards or money or fame. Another part of living your passion is raising up the others around you, even if they are your competitors. Being part of a team and a unit is important.
We discuss Matt's next steps as he moves on from the northern AZ team, and his desire to eventually run the Boston Marathon.
Why Matt decided to work with McKirdy Trained rather than head out on his own from a coaching perspective.
Listen to the Running for Real Podcast here:
[podcast src="https://html5-player.libsyn.com/embed/episode/id/6802815/height-orig/90/theme/custom/thumbnail/yes/direction/forward/height/90″ height="90″ width="100%" placement="bottom" theme="custom"]
Apple (iTunes) Podcast|Sticher| Castbox| Overcast | Spotify| Google Play| iHeartradio|
Inspirational Quotes:
Running gave me a sense of personal fulfillment before it became a long term pursuit.
Everyone has a story and has things in their lives that have brought them to where they are today, and I have found inspiration in all of the people I have come in contact with.
Lifting others up does not stifle our individual effort, it enhances everyone's success.
Resources:
Last week's episode with Kim Dawson 
Running for Real Superstars Community
Buy a Running for Real T-shirt, Tank, or Hat
Thank you to HOKA ONE ONE and Aaptiv for sponsoring this episode of Running for Real.
HOKA ONEONE Clifton 5 are becoming my new go-to shoe. The first new brand of shoe I had tried in four years, and I put them straight on for an hour, and LOVED them. Feels like you have soft marshmallows to cushion your feet with every step. Get two day free shipping using code running4real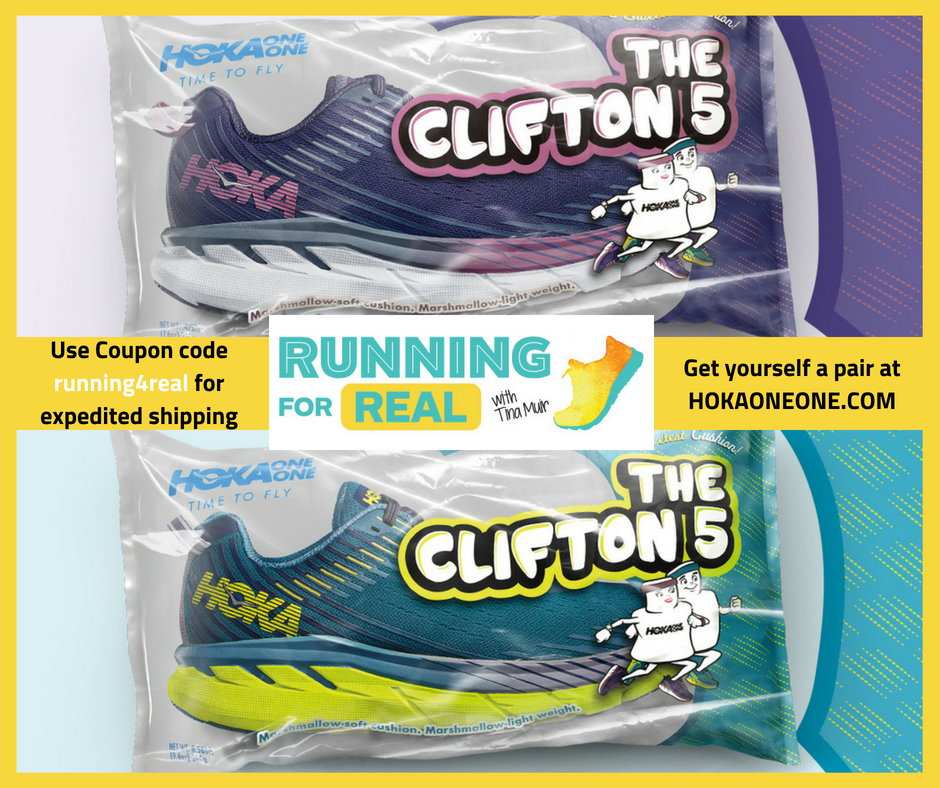 Thanks to Aaptiv for supporting the podcast. New members get 30% off annual membership at http://www.aaptiv.com/running4real
Thanks for Listening! I hope you enjoyed today's episode.
To share your thoughts:
Leave a note in the comment section below.
Join the Running for Real Facebook Group and share your thoughts on the episode (or future guests you would like to hear from)
Share this show on Twitter, Facebook, Instagram, or Pinterest.
To help out the show:
Leave an honest review on iTunes. Your ratings and reviews will really help me climb up the iTunes rankings and I promise, I read every single one.
Subscribe on iTunes or your favorite podcast player.
Not sure how to leave a review or subscribe, you can find out here.
Thank you to Matt. I look forward to hearing your thoughts on the show.