Most of us can't even imagine how it would feel to run well under 60 seconds for one lap, let alone for four laps in a row, but Kyle Merber has done it 18 times.
I wanted to bring Kyle on the Running for Real podcast as he is another athlete who is known for being real, sharing the truth, and having fun with his life, rather than hiding it all behind closed doors.
Kyle is sponsored by Hoka One One, and is yet another athlete who raves about Hoka and how much they actually care for their athletes, like making their first priority with Kyle to get him to quit his job to help him improve.
He shares his emotional story of losing his good friend David Torrence just days before David was planning on trying to win his third Long Island Mile (of which Kyle is the race director). He shares how they showed respect for David in a number of ways at the race that day and how the running community has changed for the better, with more appreciation for one another.
Kyle shares insight into life with his coach "Gags," one of the most famous coaches in the running world. He talks about why having a coach who believes in you can make your running go to whole new levels you never thought possible.
We learn about what a week of training looks like for a 3:52 miler, and just how intense it actually is (some days have a tempo in the morning and hills in the afternoon!). Kyle explains how to build up to this level of training, with his advice for runners wanting to run some speedy mile races in the future.
As a pro runner, you would imagine he wants all those workouts to be the best, but actually, trying to hit every workout, or get an A+ on every workout, is never going to happen, and it's safest to learn to accept that. A good lesson for us all.
As someone who didn't go to a big high school or have the support that many other young prodigies have, Kyle had to find inspiration from others. Now he wants to pass that on to incoming runners of the younger generation, showing the running world that he is a real person, not a robot, and it is okay to allow your weakness and humor to show through.
Both Kyle and I believe that more elite runners should be open and real; not only would it help individuals to follow and support them as a person, not just as a fast runner, but it would help with the spectating side of the sport too.
Finally, Kyle has a fantastic idea for running events, and why he believes focusing on 1-2 event areas at a track meet could bring suspense and excitement, to build a plot that is currently missing from the participation of sport.
Today's episode is for you if you like to learn from elites, but appreciate honesty and being real. Kyle is funny, friendly, and of course fast, but has some great ideas for how to improve running for the better in every way.
Today's Guest
Kyle Merber
A 3:52 miler for Hoka One One, Kyle has run under 4:00 eighteen times, and has no intention of letting up now. Kyle is knowing for his sense of humor and for being honest.
What You Will Learn About
What it is like to break 4:00 in the mile, and which one meant the most to Kyle
Kyle's first thoughts on Hoka and why he changed his mind and now LOVES them (and the company), especially being able to be a part of the design process for new shoes they come out with
How Kyle and the other elite runners felt racing at the first David Torrence Mile (formerly the Long Island Mile) just a few days after his close friend had passed away (David was planning on trying to win the race for the third year)
What a week of training looks like for Kyle (even as a miler, he still runs 70-90 miles a week) and why it is important for Kyle to do 2 hour long runs
Why Kyle is honest and open with his life as an elite, and why most elites do not open up in that same way
Listen to the Running for Real Podcast
[podcast src="https://html5-player.libsyn.com/embed/episode/id/5806500/height-orig/90/theme/custom/thumbnail/yes/direction/forward/height/90″ height="90″ width="100%" placement="bottom" theme="custom"]
Apple (iTunes) Podcast|Sticher| Castbox| Overcast | Spotify| Google Play| iHeartradio|
Kyle's #R4RPowerPose
Inspirational Quotes
Sometimes I will have a bad race, but I will still break 4:00 in the mile, and I think the running world is obviously so excited by a sub 4:00 mile at all times, it is such a barrier that it is great for your self-esteem, but sometimes you do it and you lose by quite a bit, so that is a weird situation.
It's not so much what you do one time, but what you can do again and again and again, so it took a couple of races to really prove myself.
If you see someone in the street and say, "nice Hoka's" they will tell you a story about why they are in Hokas and how much they love them. I think that is pretty unique to the brand.
I don't know if there is ever any way that you can ever truly heal from that, especially for his closest friends and family, but I know it was really good for the running community, and I know myself in the wake of tragedy to come together and celebrate his life.
The people we are racing against constantly, and the people we are traveling the world racing against, this elite running community, it is so much more than coworkers or competitors, over the years, these are people we have been racing since high school. We really do have a deeper friendship than is what is known on the track. I know that between the Long Island Mile, Fifth Avenue Mile, and a third race I did in Alaska, the camaraderie was really high, and I think people appreciate each other a little more than we have taken for granted in the past. Taking a moment to really express to one another our friendship.
Gags, or Coach Frank Gagliano, he is everything you would expect in an 80-year-old Italian man from the Bronx, he is really crushing all potential stereotypes there, showing up in his Yankees cap. He is a former football player who never ran track, but just got into coaching it. The fact that someone who never raced anything in his life, the fact that he has found his way to the top of the track and field world is an admirable testament to anything being possible.
A coach believing in you goes such a long way; everyone can write a workout or a plan, but having a coach that can convince you that you can be better than you are, I think that's maybe the greatest skill and motivation a coach can provide.
No one workout is the end all, be all, it is just about general fitness improvement and stringing as many days and positive workouts together. It is not about an A+, it is about passing.
For the mile it is just about efficiency, getting to the 200m to go mark as efficiently as possible, and to do that, you need to be really strong.
I see myself as a fan in many ways, who has been fortunate enough to come up and be able to compete in the races I was once watching, therefore I want to open up and give back as much as possible.
By being a real person and coming off as a normal human rather than a robot, maybe there is another 15-year-old kid who is running by himself every day, by seeing me on the pro stage, can see that it is possible.
Something that the sport really benefits from is having personalities. The runners that I rooted for are the ones who were sharing.
I think certain athletes can transcend beyond the sport. 
Resources Mentioned
Last week's interview with Tom Goom
Hoka Clifton 4 (shoe Kyle runs in) MENS
New Jersey New York Track Club
Thank you to my new running buddy VI and favorite recovery product BodyHealth for sponsoring this episode of Running for Real.
VI is there to encourage you on tough days, congratulate you on the days you crush it, and remind you of your goals when you need it. You can enter to win your own VI by visiting GetVI.com/running4real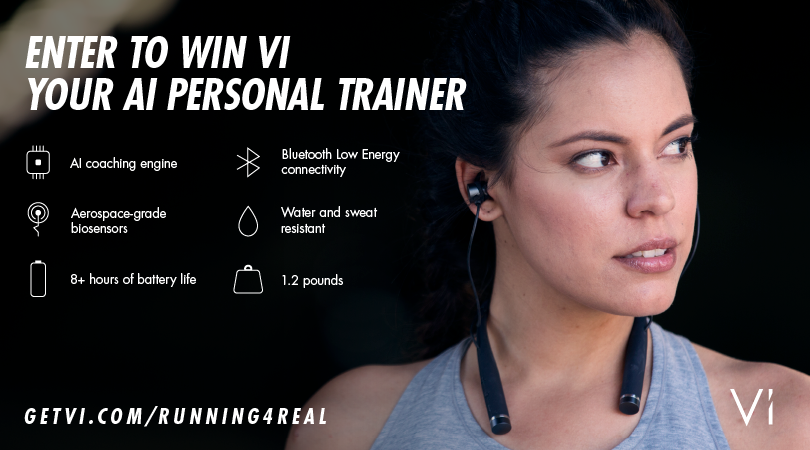 When I was running 90 miles a week as a pro, I would take 5-10 BodyHealth Perfect Amino tablets every day without fail. They helped me recover faster, and feel better. Now they have Perfect Amino XP, which makes it even easier. Get 10% off at Bodyhealth.com using coupon code TINA10
Click the banner for more information.

Thanks for Listening! I hope you enjoyed today's episode.
To share your thoughts:
Leave a note in the comment section below.
Join the Running for Real Facebook Group and share your thoughts on the episode (or future guests you would like to hear from)
Share this show on Twitter, Facebook, Instagram, or Pinterest.
To help out the show:
Leave an honest review on iTunes. Your ratings and reviews will really help me climb up the iTunes rankings and I promise, I read every single one.
Subscribe on iTunes or your favorite podcast player.
Not sure how to leave a review or subscribe, you can find out here.
Thank you to Kyle.  I look forward to hearing your thoughts on the show.