This episode is for those ultra runners who want to receive great advice and hear great real-life experiences from a world-class ultra runner.
She shares her journey of running a 10k as an out-of-shaped kid to doing her toughest challenge to date, a 1300 km run through New South Wales.
She gives us an insight to her process of mentally preparing for an ultra race.
She shares what motivates herself during low moments of a race, and the important question she asked herself during one of her races.
We talk about Run Against Violence, which is an organisation she founded to help those in situations of family violence.
She gets real and lists the many ways running has had a profound impact on so many levels of her life.
For those interested in starting ultra racing, she discusses the logistics of planning an ultra race: crew, fuel, vehicles, etc.
She mentions the documentary coming out about her next month, and teases us with what is next for her in 2019.
Today's Guest
Kirrily Dear
Kirrily Dear is an ultra runner who completed a 1300 km run through New South Wales in 2017 in 19 days, which equals 32 marathons.  She is also an advocate for human rights, and founded Run Against Violence, in 2014, to help those dealing with family violence.
What You Will Learn About
How Kirrily built up her training to run 500 miles continuously.
What Kirrily's advice is if you want to get involved with something you are passionate about.
How Kirrily made her way to the increased mileage she is able to run now.
What she means by normalizing the extraordinary.
How she prepares mentally for ultra distance races.
Why she chose to DNF 4 of her races.
Listen to the Running for Real Podcast
[podcast src="https://html5-player.libsyn.com/embed/episode/id/6160715/height-orig/90/theme/custom/thumbnail/yes/direction/forward/height/90″ height="90″ width="100%" placement="bottom" theme="custom"]
Apple (iTunes) Podcast|Sticher| Castbox| Overcast | Spotify| Google Play| iHeartradio|
Kirrily's #R4RPowerPose
Inspirational Quotes
The challenge isn't so much the running. It's putting your feet on the floor the next day, and getting up and doing it again.  It's that back up that you need to be able to do, being able to do it day after day after day.
What do I enjoy about running?  What is it I don't enjoy?  The freedom.  I guess it's had a pretty significant impact on my mental health.
In a way, I would suggest just ignoring the numbers and just find ways of moving. Don't worry about running even, just walk.
I think when you are working from a sense of pressure rather than the passion, I think that it becomes a struggle.  I think it becomes very difficult.
I don't ever let myself off the hook.  It didn't even occur to me to think that it's too hard.
If you want to succeed, you just have to get up.
Enjoy the moment.  That's my mantra.
Resources Mentioned
Last week's interview with Hajo Seppelt
Run Against Violence on Twitter
Run Against Violence on Facebook
Thank you to my new running buddy VI and favorite recovery product BodyHealth for sponsoring this episode of Running for Real.
VI is there to encourage you on tough days, congratulate you on the days you crush it, and remind you of your goals when you need it. You can enter to win your own VI by visiting GetVI.com/running4real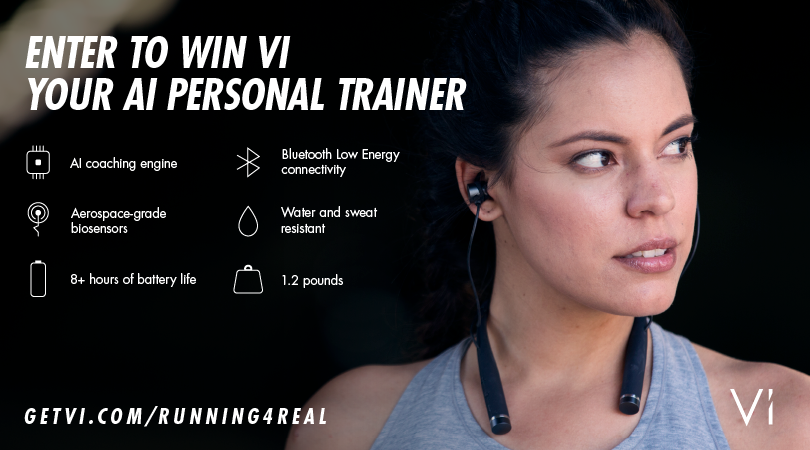 When I was running 90 miles a week as a pro, I would take 5-10 BodyHealth Perfect Amino tablets every day without fail. They helped me recover faster, and feel better. Now they have Perfect Amino XP, which makes it even easier. Get 10% off at Bodyhealth.com using coupon code TINA10
Click the banner for more information.

Thanks for Listening! I hope you enjoyed today's episode.
To share your thoughts:
Leave a note in the comment section below.
Join the Running for Real Facebook Group and share your thoughts on the episode (or future guests you would like to hear from)
Share this show on Twitter, Facebook, Instagram, or Pinterest.
To help out the show:
Leave an honest review on iTunes. Your ratings and reviews will really help me climb up the iTunes rankings and I promise, I read every single one.
Subscribe on iTunes or your favorite podcast player.
Not sure how to leave a review or subscribe, you can find out here.
Thank you to Kirrily, I look forward to hearing your thoughts on the show.