Come meet members of the Running 4 Real Superstars Community! I let you tell me who you wanted to meet on the running podcast. In the first Superstars episode I was not sure how well it would be received but it turns out it was one of the most frequently downloaded episodes and many commented just how much they enjoyed "meeting" some of the people here in the community.
"Just everyday runners" is how they all describe themselves, but they all have such wonderful stories to tell about running and what it means to them. Pull up a chair or put on your running shoes and meet some more of our wonderful community.
Today's Guests
The Running for Real Superstars Community
• Tawni Gomes
• Joe Dannaoui
• Allison McArthur
• Florian Kraemer
• Alfred Jongsma
• Julie Atkinson
What you will learn about:
Who Tawni Gomes revered in the 90's and how she used that as inspiration to lose weight, become a message board leader for 100,000 members (after getting hit by a car walking) and write a book and appear on the cover of another.
What Joe Dannaoui wants us all to know about what is is like to struggle with depression and what you can do to help lift yourself out of the lows. How movement and community can be there for you when you most need them. Talk to someone. Move. Pick a challenge or a goal to motivate yourself.
How Allison McArthur had a running theme for her wedding because she loves running so much and what she gave her attendants as gifts. How she has evolved from hiding in solemn clothing while running to the Allison the running tights fashion plate Unicorn Legging Running tights wearer we all love.
How Florian Kraemer, who is a biochemist and self professed nerd, has tossed out the data when it comes to running and became a true advocate of running by listening to your body and the effort it is expending rather than being a slave to your watch. His most important message to us is the importance of volunteering at races and how much it will give to you as a runner.
How Alfred Jongsma has gotten his wife, daughter and son-in-law involved in running and the R4R Community. We also learn about Alfred's battle with a rare blood disorder where his body creates too many red blood cells, which can result in heart attacks or stroke, and which also leads to excessive fatigue. Yes, he is our favorite Unicorn Runner.
How Julie Atkinson undertook a personal challenge in March 2016 of walking every day for a month when she got a new Fitbit. Her son talked her into doing a few runs during that time. So then beginning in April 2016, she started a new streak to run for a month and that hasn't stopped. Julie has done it the smart way, learning from the community about how to prevent injury and keep going.
Listen to the Running for Real Podcast here:
[podcast src="https://html5-player.libsyn.com/embed/episode/id/6914196/height-orig/90/theme/custom/thumbnail/yes/direction/forward/height/90″ height="90″ width="100%" placement="bottom" theme="custom"]
Apple (iTunes) Podcast|Sticher| Castbox| Overcast | Spotify| Google Play| iHeartradio|
Resources:
Last week's episode with Jared Ward
Running for Real Superstars Community
Podcast episode with Parkrun founder, Paul Sinton Hewitt
Buy a Running for Real T-shirt, Tank, or Hat
Thank you to HOKA ONE ONE and Bodyhealth for sponsoring this episode of Running for Real.
HOKA ONE ONE® is a running shoe unlike any other. The Bondi 6 was one of the first shoes HOKA ONE ONE® ever created and it's become a fan-favorite for good reason. Just try it on today and experience the sweetest cushion. Become part of the family. It's Time To Fly™.. Get two day free shipping using code running4real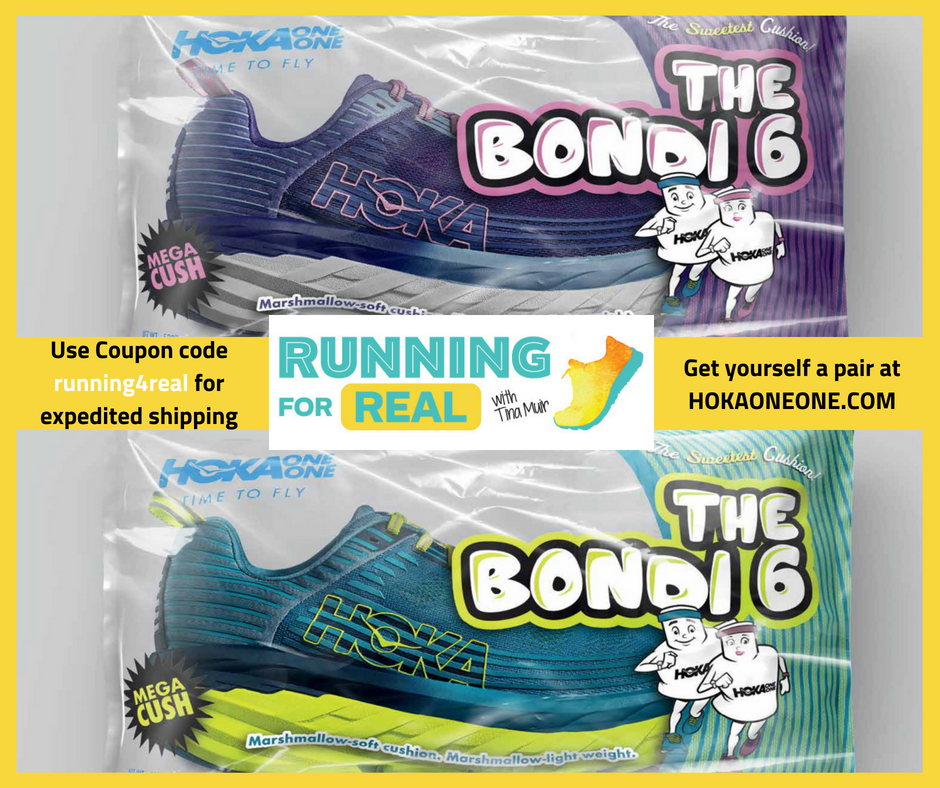 Now I am back to training, guess what was the first thing I did to start making sure I recover quicker (as coming back to fitness really beats your body up!), yep, you guessed it, BodyHealth Perfect Amino! Get 10% off at Bodyhealth.com using coupon code TINA10
Click the banner for more information.

Thanks for Listening! I hope you enjoyed today's episode.
To share your thoughts:
Leave a note in the comment section below.
Join the Running for Real Facebook Group and share your thoughts on the episode (or future guests you would like to hear from)
Share this show on Twitter, Facebook, Instagram, or Pinterest.
To help out the show:
Leave an honest review on iTunes. Your ratings and reviews will really help me climb up the iTunes rankings and I promise, I read every single one.
Subscribe on iTunes or your favorite podcast player.
Not sure how to leave a review or subscribe, you can find out here.
Thank you to Tawni, Joe, Allison, Florian, Alfred, and Julie, I look forward to hearing your thoughts on the show.