A split episode of the running podcast for runner safety and gift ideas for Christmas and Holiday celebrations.
The first half of this show we talk to founder of Run Angel, David Caren. I was always one of those runners who thought I was invincible, It would never happen to me. Thankfully, it didn't, but it could have, easily. Run Angel is a simple product that has the ability to save lives through the powerful alarm as loud as a rock concert it sends through the click of one button, while sending your "guardians" an SMS and email that you have triggered your alarm.
David tells us more about safety for runners, and this is extremely important (more than we realize) even beyond attacks, but also as we try to seek out more tranquil, peaceful moments away from our busy lives, this device could save your life.
Run Angel also features on the second half of the show, as one of the gift ideas for runners in 2017. I give over 25 of my favorite running products that I recommend you put on your list (or get for the runner in your life).
The first half is the same as a regular episode, and the second half is more conversational between you and I. Be sure to visit the gift ideas blog post associated with this to have further information and coupons for the products mentioned today.
Today's episode is for you if you ever run alone, especially out in remote places or during dark hours. If you are looking for present ideas for yourself or other runners this Christmas, this runner ideas special will have all you need.
Today's Guest
David Caren
Founder of Run Angel, a safety product created in Cork, Ireland for runners to wear to have that peace of mind that they will be found if something goes wrong.
Listen to the Running for Real Podcast
[podcast src="https://html5-player.libsyn.com/embed/episode/id/5995190/height-orig/90/theme/custom/thumbnail/yes/direction/forward/height/90″ height="90″ width="100%" placement="bottom" theme="custom"]
Apple (iTunes) Podcast|Sticher| Castbox| Overcast | Spotify| Google Play| iHeartradio|
David's #R4RPowerPose
Products Mentioned in the Gift Guide
Run Angel use code running4real for 10% off.
Generation UCAN bars Use code RUNNING4REAL for 15% off
The Brave Athlete book
Mindset Manifesto book
Life's Too Short To Go F*cking Slow book
BodyHealth Perfect Amino here and use coupon code TINA10 for 10% off Enter the Bodyhealth Christmas Giveaway
Varidesk Pro Plus Standing Desk
Stridebox use either of these coupon codes: RunningForReal10 for 10% off of gift subscriptions or RunningForReal5 gives you $5 off of your first box of a regular subscription.
Gone for a Run as they have a lot of cool ideas for personalized race gifts for runners
Oh Ball  use the code tina15 for 15% off
Oakley Half Jacket  and Goodr Sunglasses
Saucony Bullet Shorts and Tights
Resources Mentioned
Last week's interview with Suzy Favor-Hamilton 
Run Angel Use code running4real for 10% off
Tina's 2017 Gift Guide in full
Enter the Bodyhealth Christmas Giveaway
Thank you to my new running buddy VI and favorite recovery product BodyHealth for sponsoring this episode of Running for Real.
VI is there to encourage you on tough days, congratulate you on the days you crush it, and remind you of your goals when you need it. You can enter to win your own VI by visiting GetVI.com/running4real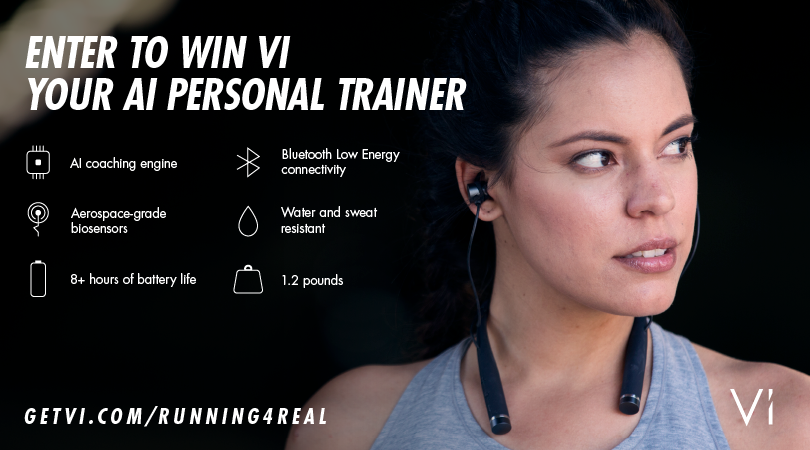 When I was running 90 miles a week as a pro, I would take 5-10 BodyHealth Perfect Amino tablets every day without fail. They helped me recover faster, and feel better. Now they have Perfect Amino XP, which makes it even easier. Get 10% off at Bodyhealth.com using coupon code TINA10
Click the banner for more information.

Thanks for Listening! I hope you enjoyed today's episode.
To share your thoughts:
Leave a note in the comment section below.
Join the Running for Real Facebook Group and share your thoughts on the episode (or future guests you would like to hear from)
Share this show on Twitter, Facebook, Instagram, or Pinterest.
To help out the show:
Leave an honest review on iTunes. Your ratings and reviews will really help me climb up the iTunes rankings and I promise, I read every single one.
Subscribe on iTunes or your favorite podcast player.
Not sure how to leave a review or subscribe, you can find out here.
Thank you to David, I look forward to hearing your thoughts on the show.