Today's interview is with Luke Tyburski, an adventure seeker, motivational speaker, and coach who has raced triathlons worldwide.   Luke has pushed himself to extreme limits, in fact, well beyond where his body could thrive.  This interview shows us the limits we can push ourselves to, but also shows us the importance of self-care and dealing with the issues that stand in the way of our full potential.  
Luke is real and honest about the demons he faced, and what he had to do in order to heal his body.  We discuss how we need to look at the big picture and understand that our lives are more than our sport, and that balance is important in everything we do.  However, we shouldn't limit ourselves; instead we should look to what is possible and how we can try to achieve our dreams.
Today's Guest
Luke Tyburski is an ultra runner, coach, and motivational speaker who undertook a 2000 km , 12 day cross-continental Ultimate Triathlon in 2015 that he designed himself.  Luke is always up for an adventure, and has done things like race down Mt Everest, learn to surf, run (literally for his life) on an island in the South China Sea after a typhoon, and compete in the Marathon de Sables. Luke grew up in a small Australian town where he dreamed of playing professional football (aka soccer for those of us in the US) and then achieved that dream.  He hosts the Kinetic Revolution Train Smarter podcast.
What you will learn about:
How Luke declared at age 4 that he wanted to be a football player, but how it took hard work and asking for assistance as he was not naturally a "young phenom" and often never made the team in his early teens.

 

His journey to being a professional player included moving to the US from Australia and getting his education here, and then going on to Belgium and the UK to play professionally.
How overtraining and being in a bad relationship added stress to his life and resulted in a deep depression and eventual retirement from soccer at age 28.
How as athletes we look at and review our training and nutrition, but we also need to review how our relationships impact our lives and what we need to change to help us reduce stress and be our best.
How he registered for the Marathon de Sables (6 marathons in 7 days) right when he retired, while still icing a calf injury, 6 months out from the race.

 

So essentially instead of dealing with the big thing that had been taken out of his life, he "ran away, literally" to do a race.
How he designed his own triathlon, the Ultimate Triathlon.

 

He blacked out during a segment and woke up in a hotel with no idea how he got there, but wanted to keep going.

 

Eventually he realized that he was addicted to endurance sports and that he used them as his drug of choice rather than dealing with his depression and mourning the loss of his life as he had known it.
How the Ultimate Triathlon almost broke him because overtraining and failing to deal with his depression wreaked havoc with his body.

 

Even after the event ended, he threw himself into promoting a documentary about it.

 H

e ultimately had to stop everything for months in order to heal himself, and learned from the experience.
Listen to the Running for Real Podcast here:
[podcast src="https://html5-player.libsyn.com/embed/episode/id/6685998/height-orig/90/theme/custom/thumbnail/yes/direction/forward/height/90″ height="90″ width="100%" placement="bottom" theme="custom"]
Apple (iTunes) Podcast|Sticher| Castbox| Overcast | Spotify| Google Play| iHeartradio|
Inspirational Quotes:
I thought people who did half marathons were crazy and those who did full marathons were just on a death wish, people who do it are just nuts. And then my friend told me about this race in the Sahara Desert…..Marathon de Sables.
I believe there is no one else that is mentally tougher than I am. I believe I am the toughest person in the world.
Reflect on what went wrong and what you can do to fix it so you don't make the same mistake twice.
I realized the potential I had as a runner. if I opened my mind to what I was truly capable of, what else could I achieve?
Resources:
Last week's episode with Amelia Gapin 
Running for Real Superstars Community
The double brutal extreme video
The Ultimate Triathlon website
Buy a Running for Real T-shirt, Tank, or Hat
Thank you to HOKA ONE ONE and BodyHealth for sponsoring this episode of Running for Real.
I was nervous (and excited) to try new shoes out at the start of the year, but there was one brand in particular I knew I wanted to try, HOKA ONE ONE. I tried the Clifton 4 and LOVED them, now the HOKA ONE ONE Clifton 5 are out, and even better than the 4. Get yourself a pair at HOKAONEONE.com/running4real for free expedited shipping and become part of the family. It's Time To Fly™.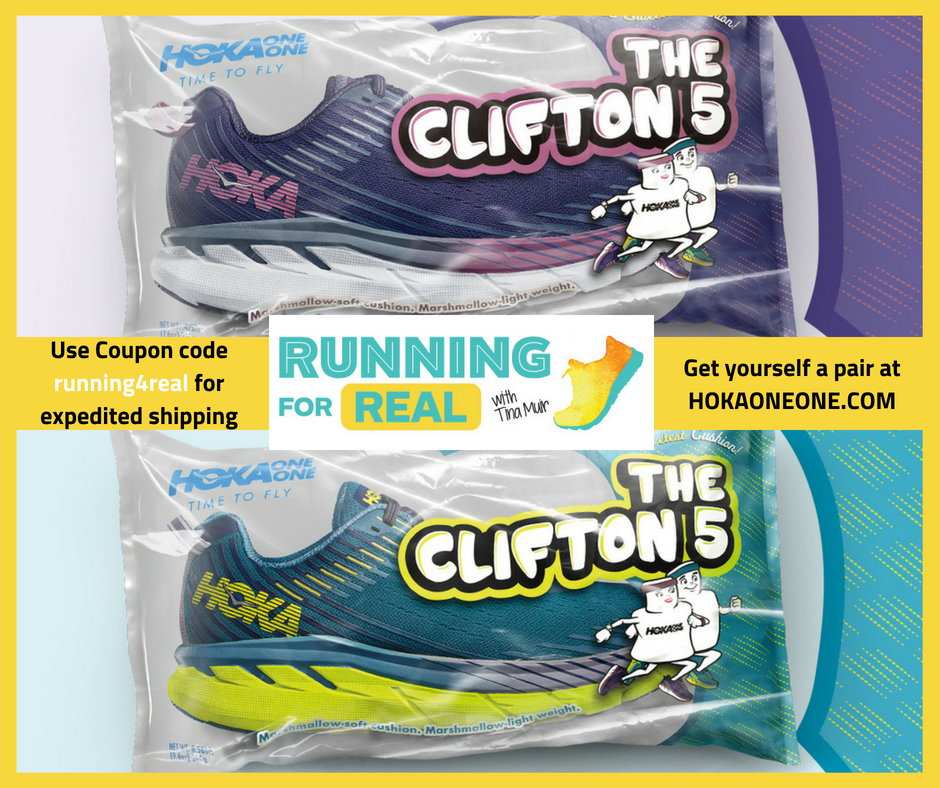 Now I am back to training, guess what was the first thing I did to start making sure I recover quicker (as coming back to fitness really beats your body up!), yep, you guessed it, BodyHealth Perfect Amino! Get 10% off at Bodyhealth.com using coupon code TINA10
Click the banner for more information.

Thanks for Listening! I hope you enjoyed today's episode.
To share your thoughts:
Leave a note in the comment section below.
Join the Running for Real Facebook Group and share your thoughts on the episode (or future guests you would like to hear from)
Share this show on Twitter, Facebook, Instagram, or Pinterest.
To help out the show:
Leave an honest review on iTunes. Your ratings and reviews will really help me climb up the iTunes rankings and I promise, I read every single one.
Subscribe on iTunes or your favorite podcast player.
Not sure how to leave a review or subscribe, you can find out here.
Thank you to Luke.  I look forward to hearing your thoughts on the show.