English professional Triathlete and four time Ironman Triathlon World Champion in 2007, 2008, 2009, and 2011 is here on the podcast today. Chrissie Wellington won her age group at the 2017 London Marathon with a finishing time of 2:49:01 (her fastest marathon though was part of an ironman Triathlon where she ran 2:44:35!).  Chrissie has written two books, "A Life Without Limits" (her autobiography) and "To the Finish Line" (a training guide book).
Chrissie and I discuss the importance of listening to your body when you are training as well as remembering to smell the roses and see the scenery along the way.  You need to remember to embrace the environment you are training in an enjoy it along the way.  We talk about the pressure of performance and reaping the reward of months of investment of time and energy in trying to reach our goals.
She is a role model for others and an ambassador for the sport of Triathlon. She has always had so many different passions and she has used them all to assist others around the world.   She is open and outspoken about her struggles with eating disorders.  
Today's Guest
Chrissie Wellington was born in England and grew up in a small town near London.  She swam competitively as a teenager and in her years at University.  She has an undergraduate degree in Geography and an MA in International Developmental Policy.  She has worked in Public Policy Development and worked in Nepal on Rural Reconstruction.  During her time in Nepal she trained mountain biking in the Himalayas.  She now lives in England with her husband and daughter.
What you will learn about:
How Chrissie has had a passion for creating positive change, so made her career focused on driving change, but wanted to do it at a more ground roots level.
Chrissie's two week holiday cycling across the Himalayas from Llasa to Kathmandu on rural dirt roads at altitude. The trip taught her she had the capacity to endure things she didn't realize she could endure. It also taught her the importance of rawness in your training. While you have to become focused in training and take care of the details you have to remember the rawness of just being active and just paying attention to perceived effort.
We discuss managing the nerves before an event by focusing on what you have done during your training vs what you might not have done as well or what other people might have or have done. Take yourself to a place where you can visualize success or sit and talk with someone who supports you unconditionally. In the days before the race, you can visualize what might go wrong and how you will handle it to give yourself peace of mind to know you can handle it. Because no race ever gone perfectly but you overcome.
How she started training with a goal to qualify for the Olympics as a swimmer. Her coach quickly directed her to Ironman competitions instead, and she won her first attempt in Korea. She then went on to win the World Championships right after.
How she has used her success in sport to be able to drive her passions to be a force for good in other efforts to drive change.
How she knew she had the "perfect race" where she had to dig the deepest and had to fight to succeed. It was not perfect from the perspective of everything going right but rather answering for her how hard she could fight and how much she could endure. And having had that race, she knew she could retire knowing she had given her all.
Chrissie discusses her struggles with eating disorders and the desire to control by restricting eating. After she started running and researching nutrition, she found she was able to learn to fuel more as it improved her performance. But then how she found that once she retired, she felt the restrictions coming back because she was not "earning" her food intake. Her desire to have a family and now raise her daughter with a healthy relationship to food helped her overcome the issues
We learn about Chrissie's role with ParkRun and her newest book, To the Finish Line, which is a training oriented book.
Listen to the Running for Real Podcast here:
[podcast src="https://html5-player.libsyn.com/embed/episode/id/6943890/height-orig/90/theme/custom/thumbnail/yes/direction/forward/height/90″ height="90″ width="100%" placement="bottom" theme="custom"]
Apple (iTunes) Podcast|Sticher| Castbox| Overcast | Spotify| Google Play| iHeartradio|
Inspirational Quotes:
Unless you challenge yourself, how do you know what you are capable of? Unless you put yourself out of your comfort zone how will you know what you can do and what you might be good at?
I make a decision and really think about how it makes me feel, and if it makes me feel happy and excited, I know I have decided well.
Resources:
Last week's episode with the Running for Real Superstars 
Running for Real Superstars Community
Podcast episode with Parkrun founder, Paul Sinton Hewitt
Buy a Running for Real T-shirt, Tank, or Hat
Thank you to HOKA ONE ONE and Bodyhealth for sponsoring this episode of Running for Real.
HOKA ONE ONE® is a running shoe unlike any other. The Bondi 6 was one of the first shoes HOKA ONE ONE® ever created and it's become a fan-favorite for good reason. Just try it on today and experience the sweetest cushion. Become part of the family. It's Time To Fly™.. Get two day free shipping using code running4real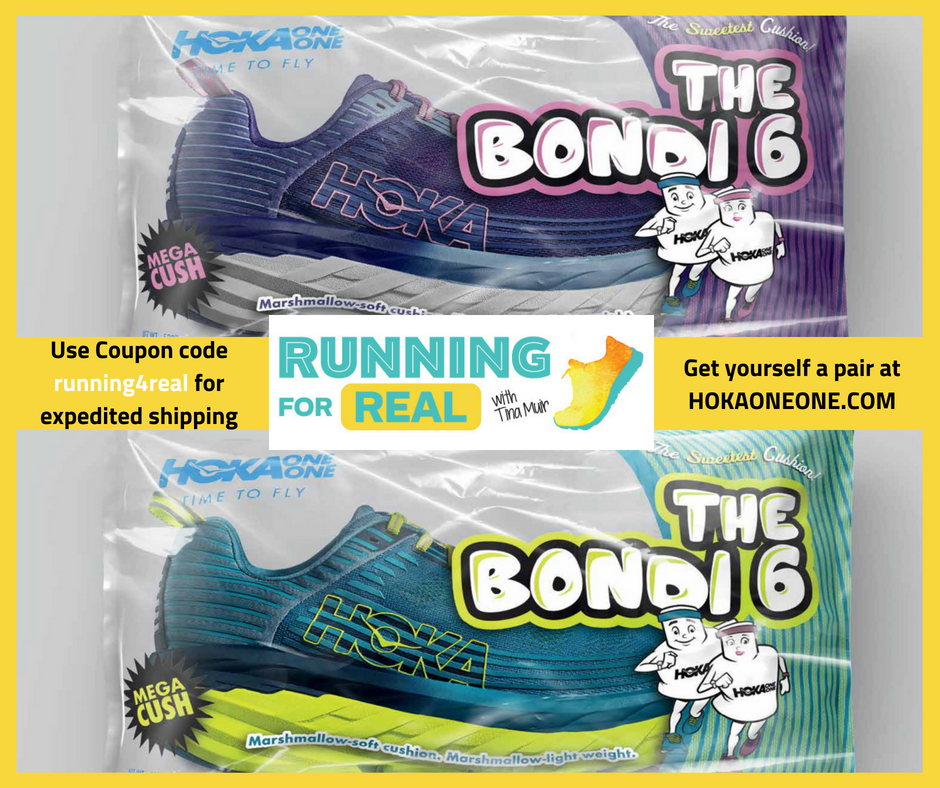 Now I am back to training, guess what was the first thing I did to start making sure I recover quicker (as coming back to fitness really beats your body up!), yep, you guessed it, BodyHealth Perfect Amino! Get 10% off at Bodyhealth.com using coupon code TINA10
Click the banner for more information.

Thanks for Listening! I hope you enjoyed today's episode.
To share your thoughts:
Leave a note in the comment section below.
Join the Running for Real Facebook Group and share your thoughts on the episode (or future guests you would like to hear from)
Share this show on Twitter, Facebook, Instagram, or Pinterest.
To help out the show:
Leave an honest review on iTunes. Your ratings and reviews will really help me climb up the iTunes rankings and I promise, I read every single one.
Subscribe on iTunes or your favorite podcast player.
Not sure how to leave a review or subscribe, you can find out here.
Thank you to Chrissie, I look forward to hearing your thoughts on the show.